El Salvador Frees 3 Women Serving Long Sentences for Aborting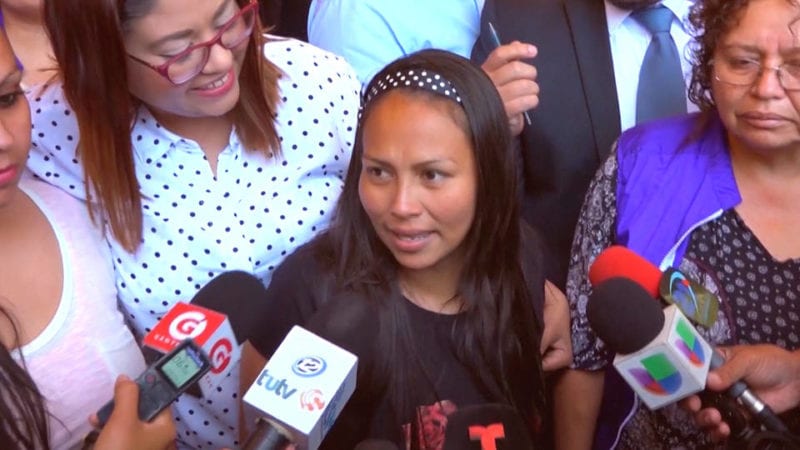 By Circles Robinson
HAVANA TIMES – El Salvador's Supreme Court has ordered the release of three women imprisoned for around a decade under the country's anti-abortion laws, which are among the harshest in the world.
The women were among dozens who have been sentenced to up to 30 years for abortion-related crimes, reported Democracy Now on Friday.
This is Alba Rodríguez, who was freed Thursday after more than nine years in prison:
Alba Rodríguez: "We thank the citizens' associations, the national and international organizations that supported us. And we hope that the state also recognizes that there are many women inside here that are also innocent and, God willing, one day, can gain their freedom, too."
Maria del Transito Orellana had also served over nine years in prison and Cinthia Rodríguez had been jailed for more than 11 years.
The prison terms correspond to the years that the FMLN (at one time considered a revolutionary/progressive organization) was in power.
El Salvador, and neighboring Nicaragua under Daniel Ortega, have the harshest laws against women in the western hemisphere. Women who abort in El Salvador face sentences of up to 40 years, notes BBC Mundo.
In both countries even a woman's life being in danger is no cause for an abortion, something many supporters of Donald Trump in the United States also dream of.
Aligned with the Evangelical and Catholic churches, the two former "revolutionary" organizations are today as conservative as far rightwing parties.
The FMLN was just voted out of office, finishing a distant third in recent presidential elections, but still holds power until June. In Nicaragua, the dictatorship of Ortega and his wife Rosario Murillo continues in power through fraud, corruption and repression, while facing an ongoing civic rebellion.
A pattern of cruel punishment for women
Human rights Activists say that during the past 10 years at least 30 women imprisoned under El Salvador's strict anti-abortion laws have been released after new trials or judicial reviews. However, at least 20 other women remain in prison, notes BBC Mundo.
Last month, Evelyn Beatriz Hernández Cruz, 20, was released after the court ordered a new trial. The young woman had been sentenced to 30 years in prison for having given birth to a stillborn in the latrine of her house.
Amnesty International says that El Salvador "is one of the most dangerous countries in the world to be a woman."