Elian Gonzalez at Cuba's Round Table Anniversary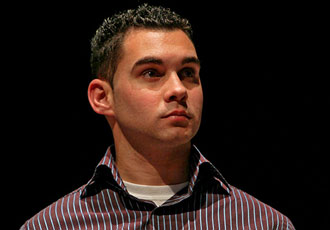 HAVANA TIMES — Young Elian Gonzalez was the guest of honor at the gala held Monday night at Havana's Lazaro Peña Theater in celebration of the 15th anniversary of Cuba's Round Table radio and television program, Café Fuerte reported.
During the evening, Randy Alonso, host of the program and director of the official website Cubadebate, went on stage to award Rolando Alfonso Borges, department chief of the Central Committee of Cuba's Communist Party, a sculpture of Don Quixote sent to Fidel Castro. The work of goldsmiths, the piece will be donated to the Cuban Cultural Assets Fund.
Acknowledgements were also granted the founders of the program, Elian Gonzalez and his father Juan Miguel Gonzalez and to relatives of the five Cuban agents imprisonned in the United States, today the focus of attention of Cuba's official media.
The standard-bearer of Cuban government propaganda, the Round Table was created on April 16, 1999, an initiative of Fidel Castro's that became part of the campaign calling for the return of Elian Gonzalez, then a child who survived a shipwreck during an attempt to leave the country, which the leader called the "Battle of Ideas." More than 5,000 programs have already been aired.
Calling itself an informative and debate program, the Round Table includes the participation of guest panelists, however they all express virtually the same opinions and no one is allowed to retort.
On December 6 this year, Elian celebrated his 21st birthday in the city of his birth (Cardenas), with a parade led by Cuban spies Rene and Fernando Gonzalez, released from prison after serving long sentences in the United States.