Emily Approaches Haiti Before Cuba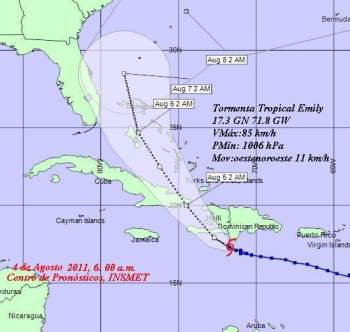 HAVANA TIMES, August 4 — Slow moving Tropical Storm Emily is poised to reach land Thursday afternoon in southeastern Haiti before heading on to Guantanamo, Cuba and a possible landing on Friday.
The storm with 50 mph (85 kph) winds is not expected to gain in intensity or organization in the coming hours, notes the Cuban Weather Service (INSMET).
The rains will begin to fall on the most eastern part of Cuba sometime Thursday afternoon and could be locally intense in the mountainous zones of Guantanamo and Holguin.
Sea swells will make the waters dangerous for small crafts on both the south and north eastern coasts, noted INSMET.
How much rain actually falls in Cuba's eastern provinces will most likely depend on the inclination of the storm in its path from Haiti to Cuba.
At 6:00 a.m. EDT on Thursday, TS Emily was located 95 miles (155 kms) south-southeast of Port of Prince, Haiti and 285 miles (460 kms) southeast of Guantanamo. The storm was moving at only 7 miles (11 kms.) per hour.
INSMET predicts that in the coming 24-48 hours Emily will gradually tilt its path to the northwest and slightly increase its movement speed.