ETECSA Now Says No Wi-Fi with Internet in Santiago de Cuba
HAVANA TIMES — La Empresa de Telecomunicaciones de Cuba (ETECSA) denied on Monday that they would offer WiFi service with internet connection, as reported by the island's official journalist association UPEC.
"ETECSA clarifies to all its customers that this information is false, and that it was not issued by this entity," a company press note states.
The denial was immediately reproduced by the Communist Party official newspaper Granma, and digital sites including Cubasi and Cubadebate.
"ETECSA apologizes for any inconvenience caused by the erroneous information and reiterates to all its customers that each time a new service is to be offered it will promptly inform them through the official channels," said the company.
According to a brief news item published Friday by Cubaperiodistas, site of the Cuban Journalists Association (UPEC), Santiago de Cuba province had been chosen by ETECSA to begin WiFi service in late January, using a facility that is currently undergoing refurbishment.
Only Intranet

ETECSA now says the only service that will operate is the highly limited local Cuban "Intranet" through the Youth Club network, which offers computer time but without access to the global network.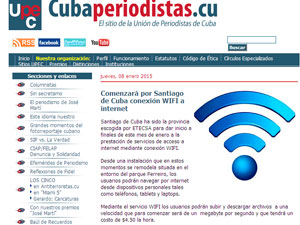 "We also inform that the WiFi service to be provided at the recreational Technological Park of Santiago de Cuba is also for navigation only on the "Intranet" and through its own Youth Club navigation network called "Tinored", notes the state monopoly telecommunications company.
Cubaperiodistas, the official journalists' site, had offered a more optimistic version.
"Users will be allowed to upload and download files on their cell phones, tablets or laptops and the initial speed will be one megabyte per second." The price was stated to be 4.50 convertible pesos (CUC) an hour (equal to $5 USD).
What motivated the misinformation from an official site is unknown as Cubaperiodistas has offered no explanation. CaféFuerte had unsuccessfully attempted to confirm the news item with ETECSA the news broke on Friday.