EU and Cuba Formalize Agreement on Political Dialogue and Cooperation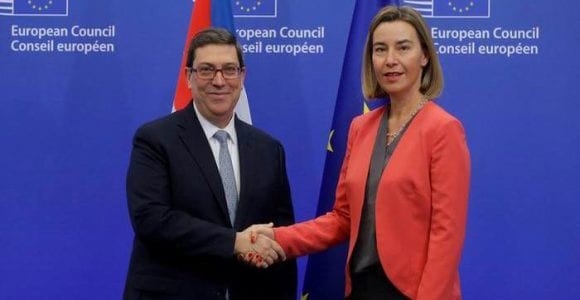 HAVANA TIMES – The European Union (EU) and Cuba signed today a Political Dialogue and Cooperation Agreement, which provides for much more intense political and trade exchange, as well as greater cooperation in areas such as fighting Climate change, tourism and culture. The accord had been announced weeks ago and was formalized on Monday.
During the signing ceremony in Brussels, the head of European diplomacy, Federica Mogherini, described the agreement as "historic" for creating for the first time an official framework for relations between Cuba and the EU.
Cuban Foreign Minister Bruno Rodriguez expressed hope that the agreement will open up new opportunities. However, he added that the United States economic and financial embargo on Cuba, which is still in force, precludes a broader partnership. EU companies that do not respect the embargo run the risk of being punished with US sanctions.
The agreement was reached on the basis of the timid opening of the island in recent years. In addition to introducing some market reforms, Cuba took a historic step of rapprochement with the United States in December 2014, which culminated last year with the reestablishment of diplomatic relations after 55 years of rupture.
Relations between the EU and Cuba were hitherto conditioned by the so-called "Common Position" of 1996, which required progress on human rights and the island's transition to a pluralist democracy as conditions for normalization.
Mogherini promised that the EU will continue to include these issues in its dialogue with Cuba, but they have apparently lost their top priority.
Rodríguez said that the Agreement on Political Dialogue and Cooperation was supported by Fidel Castro, who died on November 25th. According to the foreign minister, Castro had expressed the hope that the agreement would contribute to creating a just international system.