Eulogy for Rev. Lucius Walker Jr.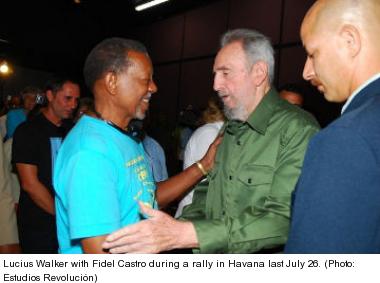 HAVANA TIMES, Sept. 16 — Rev. Lucius Walker Jr. —founder of the Pastors for Peace organization who died on September 7— received a eulogy written by Amy Rabideau Silvers in the Journal Sentinel of Milwaukee, where he started his career as a pastor and activist.
"Long before Lucius Walker Jr. made international headlines – including for humanitarian aid to Cuba and when shot by U.S.-backed contra forces in Nicaragua – he was a minister and civil-rights activist in Milwaukee.
"Walker arrived in Milwaukee in the late 1950s while still a theology student, first serving as a youth director for the Milwaukee Christian Center on the south side. Before he was even ordained, he was called to serve by Hulburt Baptist Church, an all-white congregation, also on the south side. He went on to serve as the founding director of Northcott Neighborhood House."
Read the complete article titled: Rev. Lucius Walker Jr. Fought for Civil Rights
Rev. Lucius Walker Jr. Funeral Friday
HAVANA TIMES, Sept. 14 — The funeral services for Rev. Lucius Walker Jr. will be held at 10:00 am on Friday, September 17, 2010 at Convent Avenue Baptist Church in New York City (420 W 145th Street, New York, N.Y., states the IFCO/Pastors for Peace website.
See: Cuba Loses a Friend, Lucius Walker Dies
"In lieu of flowers, the family requests that donations be made to IFCO or Salvation Baptist Church and sent to IFCO, 418 W. 145th St. New York, NY 10031 or via the IFCO website.
"You may send your condolences to Rev. Walker's family and friends by signing the guest book for Rev. Lucius Walker," notes Pastors for Peace.