Felix Maradiaga Returns to Nicaragua: "I Came to Stay"
The political scientist and director of IEEPP arrived in the afternoon amid a police siege of the airport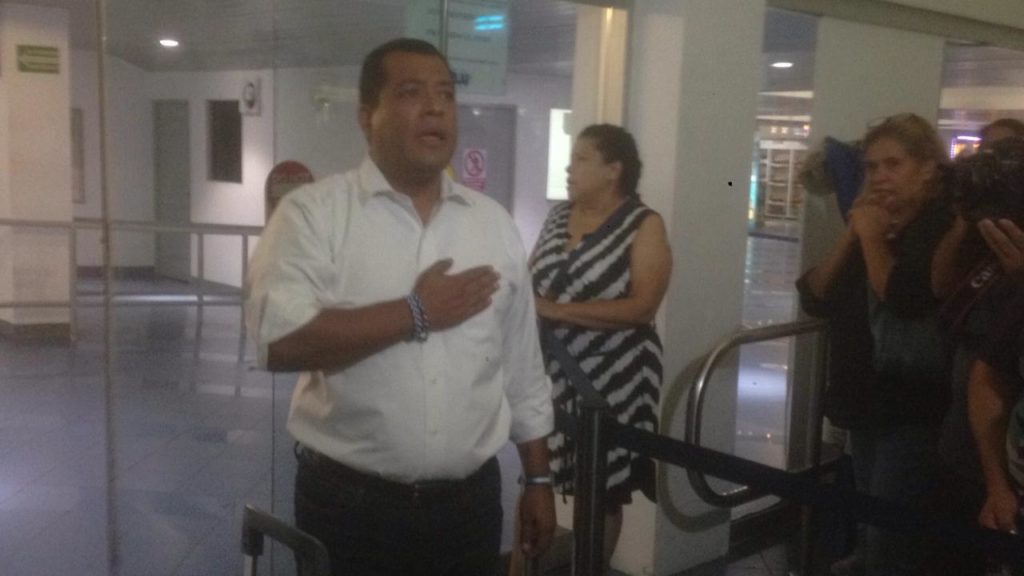 "I come to contribute to the work of healing the wounds, but also to build democratic alternatives for Nicaragua," Maradiaga said.
By Maynor Salazar (Confidencial)
HAVANA TIMES – The first thing Felix Maradiaga did when he stepped on Nicaraguan soil was to sing the national anthem. In front of acquaintances, friends and media he stood firm, raised his hand to his chest and sang the sacred notes with lots of emotion.
The opposition politician and director of the Institute for Strategic Studies and Public Policies (IEEPP) returned to Nicaragua on Monday afternoon, September 16, after a year of forced exile, due to the political persecution of the Ortega-Murillo government, which accused him of financing terrorism and drug trafficking.
"I feel excited. It has felt like when a child is torn from his mother. I had to live a second exile in my life, as has happened with many Nicaraguans," Maradiaga told the media.
He said that his stay outside the country was "hard." He also said he had mixed feeling because he had wanted to return to a Nicaragua with freedoms and where journalists could practice their profession without risking their lives, and where university students could enter their campuses without fear.
"Many Nicaraguans knew the first Sandinista dictatorship and I remember in my teens those bitter times of war in the 80s. This second exile of just over a year was extremely hard. I come to join the work that many people are doing. I come to contribute to the work of healing wounds, but also to build democratic alternatives for Nicaragua," said the political scientist.
Maradiaga was accused by the dictatorship of running a criminal and terrorist network during the protests of the civic rebellion. On September 23, 2018, Ortega's justice system issued an arrest warrant against him under the action of "financing drug trafficking mafias," as well as attributing the crimes of terrorism, drug trafficking and organized crime.
Before, during and after the arrival of Maradiaga, the Managua airport was besieged by riot police. His acquaintances feared that the Ortega dictatorship would not let him enter or capture him immediately after leaving the airport terminal.
After speaking with the media, Maradiaga greeted members of the Civic Alliance and the Blue and White National Unity movement (UNAB). Upon leaving in a private vehicle, the IEEPP director was besieged by a police patrol that stopped following him kilometers after leaving the airport.
"I came to stay; I will not allow anyone to make me leave. I have no guarantee (in terms of security), that I want to say clearly. I am aware of what I can face. I do not want this return to be used as a way to create the illusion of a false normality. Nothing is normal in Nicaragua," he concluded.
I return with my head up high
Prior to his arrival, Maradiaga published a letter assuring that he was returning with "his head up high." "This announcement is consistent with the position I hold since the beginning of my forced exiled. I always said that my departure from Nicaragua would be temporary and with the sole purpose of continuing my civic and human rights struggle, from the international arena," Maradiaga said in the city of Miami. "I have done everything in my power to let the world know what is happening in Nicaragua and for the international community to exert pressure for a peaceful transition towards democracy. It has been an arduous and involved much team work, along with many people."
He added: "Now I feel that I must return to the trench of civic struggle within Nicaragua, as I have been doing for more than a decade, before the Sandinista judicial system initiated a political persecution against me. It is a decision I have made accompanied by a lot of prayer and reflection with my family, guided by the conviction that no tyranny can rob me of the right to live and work for the nation I love. Nicaragua is my homeland. As a Nicaraguan citizen that I am, I will make use of my constitutional right to enter and leave my country when I deem it convenient," said Maradiaga.