Fidel Castro Accuses NATO of Promoting War against Russia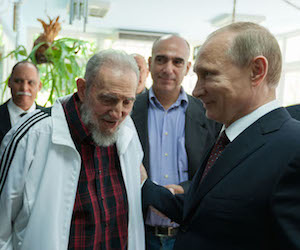 HAVANA TIMES — Former Cuban president Fidel Castro today accused the new Secretary General of NATO, Jens Stoltenberg, of promoting a "war of extermination" against Russia and criticized the alliance as "more extreme" than the Islamic State militia.
"So much hatred in the face!" Castro wrote in an article published in the official Granma newspaper, criticizing the former Norwegian Prime Minister Stoltenberg, who assumed office a few days ago heading the North Atlantic Treaty Organization (NATO).
"What an incredible effort to promote a war of extermination against the Russian Federation", said the 88-year-old former Cuban president.
"Who are more extreme than the Islamic State extremists themselves? What religion do they practice? After this, will it be possible to enjoy eternal life at the right hand of the Lord?" he ironically asked.
Castro left office in 2006, after seriously falling ill, however he is still considered the leading Communist Party voice on foreign policy matters. He publishes opinion articles on international topics always given top story status in the Cuban media.
When he took office a few days ago Stoltenberg called for a "strong NATO" to try to rebuild the relationship with Russia, damaged by the crisis in Ukraine. The secretary general of the alliance also criticized the "behavior" of Russia in the tensions in Eastern Europe.