Fidel Castro Forgoes Adidas Outfit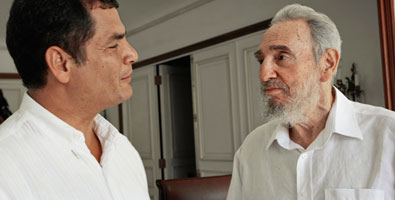 HAVANA TIMES, August 23 – Former Cuban President Fidel Castro received a visit from vacationing Ecuadorian president Rafael Correa on Friday.  Correa is in Cuba with his family.
A press photograph of their meeting showed Castro looking fit and sporting a white short sleeve shirt instead of the Adidas work out uniform he has often worn since convalescing from serious intestinal surgery three years ago.
Fidel had also received a two-day working visit from his close friend Venezuelan President Hugo Chavez on his 83rd birthday August 13th.  Earlier in the month he welcomed Pastors for Peace leader Rev. Lucius Walker.
The Cuban press reported that the talks with Correa centered on economic matters and education and health care issues.
Fidel Castro writes several columns each month for the local media, mostly on international issues.  He is considered the leading advisor to his brother Raul, 78, on all matters considered important by the current president.