Fidel Castro has Argentina's Cristina Fernandez over for Lunch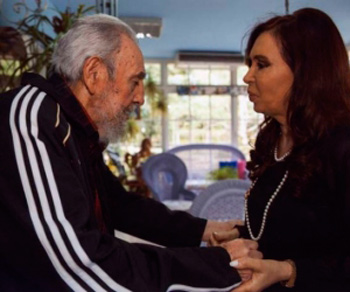 HAVANA TIMES — Fidel Castro hosted a luncheon for Argentine President Cristina Fernandez on Sunday at his home on the west side of Havana. No photos have yet to be released of the two leaders.
"After exchanging warm greetings, [Castro and Fernández de Kirchner] talked about regional topics and the main problems facing mankind, particularly about food sources and the various armed conflicts that threaten peace on the planet. In a special moment, Fidel and Cristina remembered the late Hugo Chávez and his efforts to consolidate Latin American unity with the creation of the CELAC in the year 2011," reported Progreso Weekly.
Fernandez was the first president to arrive in Havana on Saturday for the Second Summit of the CELAC (Community of Latin American and Caribbean States), which begins Tuesday (Jan. 28). She was followed on Sunday by Brazil's Dilma Rousseff and Bolivia's Evo Morales.
On Sunday at 12:45 p.m., Fernández left the Hotel National, where she is staying, telling journalists outside: "Fidel invited me to lunch." With her were her 24-year–old daughter, Florencia, and the presidential press secretary, Alfredo Soccimarro.
Upon returning, three hours later, Fernández commented only that the visit had gone "Well, very well" and that "The luncheon was very tasty," noted Progreso Weekly.