Fidel Castro Meets with Iranian President in Havana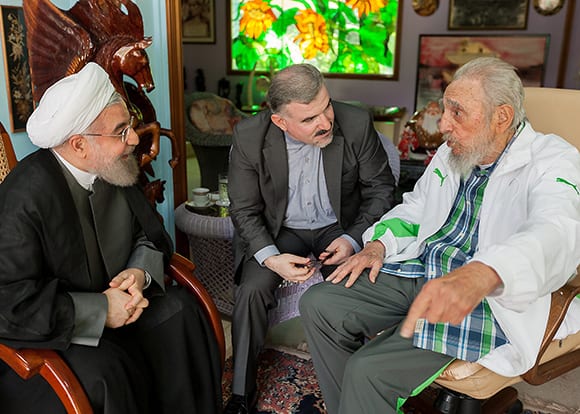 HAVANA TIMES – Former Cuban President Fidel Castro met on Monday with the Iranian president, Hassan Rohani, at his home in Havana, reported dpa news.
The meeting was held at Castro's private residence, described by the government TV news as a "fraternal encounter". Fidel, 90, is the leading adviser to his brother President Raul Castro.
During the meeting, Rohani expressed "satisfaction for visiting Cuba and made clear his admiration for its struggle, achievements and selfless assistance to other peoples".
The official press said that Rohani and Fidel agreed "in their analysis of the complexity of the international situation" and talked about "the dangers to the preservation of peace."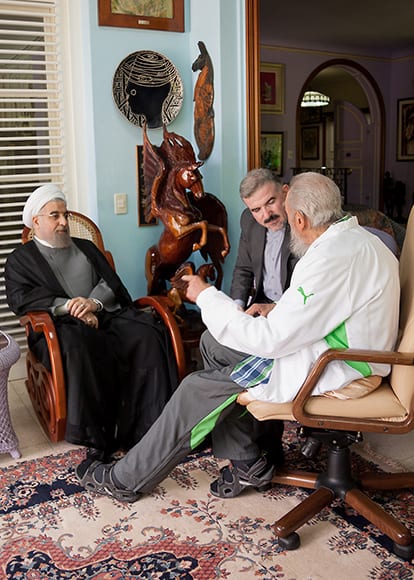 Later in the afternoon, Cuban President Raul Castro met with Rohani, on his first official visit to the island, with the aim of strengthening economic ties between the two countries.
In the typical language used to describe such visits, Cuban TV said, "In a cordial atmosphere, the two leaders ratified the willingness to further develop collaborative links and exchange between the two nations."
The two presidents also witnessed the signing of the Memorandum of Understanding for Cooperation in the fields of health, research, education, medicine and medical technology.
Rohani's visit to the island comes at a time when both Iran and Cuba are living an easing of some economic sanctions imposed by the United States.
Last month, Iranian Foreign Minister Mohammad Javad Zarif visited the island. He stressed his country's interest in expanding economic, trade and financial relations with Cuba.
Rohani arrived on Monday morning to Havana, from Isla Margarita (Venezuela), where he participated over the weekend at the Summit of Non-Aligned Countries, also attended by Raul Castro.
The visit to Cuba is only 24 hours because the Iranian president will depart Havana on Tuesday to take part in the UN General Assembly in New York.