Fidel Castro Reappears in Public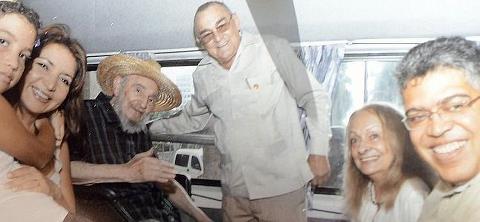 HAVANA TIMES — Former Cuban President Fidel Castro was seen in public on Saturday in Havana after several months of absence and amid a wave of rumors about his alleged deteriorating health, reported DPA news on Sunday.
Castro, 86, met in Havana for several hours on Saturday with former Venezuelan Vice President Elias Jaua. Castro then accompanied Jaua to the Hotel Nacional.
Castro's prolonged absence had given rise in recent weeks to a wave of speculation about his health. Rumors had spread that the historic Cuban leader was "dying" after suffering a stroke.
Castro had not appeared in public on the island since late March, when he met with Pope Benedict XVI during the pontiff's visit to the island. Since late June he has not published any of his newspaper columns, called "reflections", in the Cuban press.
Days before today's news, Fidel's son, Alex Castro, told the local media that his father was in good health. "The commander is well and doing his everyday things."
Then, last Wednesday, state media broadcast a brief message from Castro to a medical institution for their anniversary.
Fidel is considered the senior advisor to his brother President Raul Castro.