Fidel Castro to Get Private Session with Pope Francis
By Progreso Weekly  (taken from Digital Religion).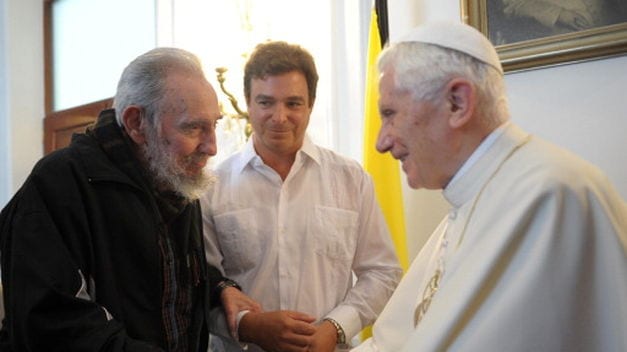 HAVANA TIMES — The Vatican diplomatic structures and Cuba have already agreed to a private meeting between Pope Francis and the historic leader of the Revolution, Fidel Castro, during the tour of the Pope to Cuba (19-22 September).
Notimex sources confirmed the request of the meeting was advanced by Jorge Mario Bergoglio (Pope Francis) and welcomed by the Cuban side, although there are still details to be arranged.
The meeting also depends on the health of Castro who turned 89 on August 13. Fidel also met with the popes John Paul II and Benedict XVI during their visits to Cuba in 1998 and 2012.
A meeting between Francis and Fidel will probably not appear on the official agenda. However, there is room on the schedule after Francis lands at the "Jose Marti" International Airport of Havana in the afternoon of Saturday 19 September.
After an official welcoming ceremony, the pope has no other public activities that afternoon.
The following day, after an open air Mass in the Plaza of the Revolution, Francis will pay a courtesy call on President Raul Castro at the Palace of the Revolution.
The Pope will be in Havana until Monday Sept. 21, when, in the morning, he will leave for Holguin and from there to Santiago de Cuba, where on Tuesday 22 will take off for the United States.
Fidel Castro's first greeting with a Pope came on November 19, 1996 when the then Cuban president was received by John Paul II in the Vatican. The private meeting lasted 35 minutes and laid the groundwork for the visit of Karol Wojtyla to the island two years later.
The Polish Pope carried out a pastoral visit to Cuba from January 21-26, 1998 with stages in Havana, Camaguey, Santa Clara and Santiago de Cuba.
In March 2012, Pope Benedict XVI met with Fidel at the headquarters of the apostolic nunciature in the capital. The senior Castro was no longer the president and accounts refer to a long and cordial conversation.