Fidel Castro's Birthday Draws Presidents Maduro and Morales to Havana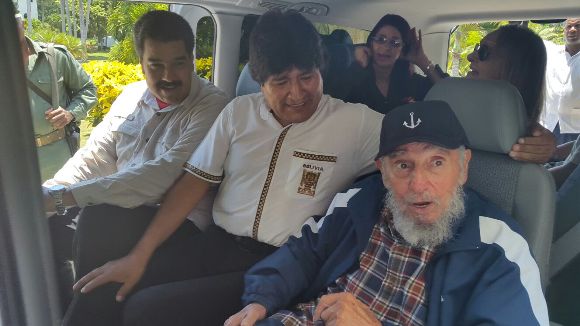 HAVANA TIMES (dpa) — Venezuelan president Nicolas Maduro arrived in Havana on Thursday accompanied by First Lady, Cilia Flores, to celebrate the 89th birthday of Cuban leader Fidel Castro.
The Venezuelan Ministry of Communication and Information said the Venezuelan leader traveled to Cuba and Havana and surprised his Bolivian counterpart Evo Morales, who also came to attend the celebration prepared for Castro.
The ministry published several photographs of Morales, Maduro and Flores together with Castro on a bus.
Fidel's birthday celebration comes the day before Secretary of State John Kerry and hundreds of guests and reporters converge on the newly opened US embassy to hoist the flag to begin a new era in US-Cuban relations.