Florida College Hosts Havana City Historian Eusebio Leal for Talk on Sunday
HAVANA TIMES – Eusebio Leal, the Havana City Historian who showed Secretary John Kerry around Old Havana in August, is scheduled to speak this Sunday afternoon at Flagler College in St. Augustine, Florida reports Tracey Eaton at alongthemalecon.blogspot.com.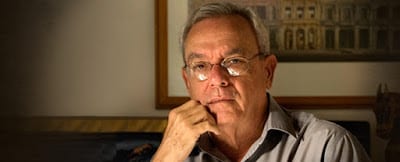 A news release about his visit follows:
Dr. Eusebio Leal, Cuba's leading preservationist who is lauded for saving the country's Habana Vieja district, will give a talk on his lifelong endeavors at Flagler College on Sunday, Oct. 11.
"He is dynamic and daring in his passionate commitment to preserve Havana," said Dr. Leslee Keys, Flagler College's director of historic preservation. "He has become legendary in his work."
Keys was quick to point out parallels between the rise of the preservation movement in Cuba, as well as in St. Augustine and the greater United States.
"His work in Havana began just as St. Augustine had completed its 400th anniversary celebration," she said. "Announcements were made in 1967 about the Hotel Ponce de Leon closing to become the centerpiece of the soon-to-be founded Flagler College. Also, the U.S. had just passed the National Historic Preservation Act of 1966. Call this timing a 'perfect storm' for preservation, if you like."
As relations with Cuba rapidly grow, Leal's visit is an opportunity to learn from the renowned historian, and to showcase historic St. Augustine — a town that arguably shares Havana's colonial evolution.
"Finally, we can feature the Hotel Ponce de Leon from where Henry Flagler launched a resort career that included hotels and steamships that traveled to Havana, as well as to Florida and the Bahamas," Keys added.
Leal is also Deputy to the National Assembly of the Popular Power in Cuba's legislature, Ambassador of Good Will of the United Nations, president of the Commission of Monuments in the City of Havana and a specialist in Archeological Sciences. He received his master's degree in Latin America, the Caribbean and Cuba from the University of Havana in 1996 and his doctorate in Historical Sciences from the same university in 1997.
The event, sponsored by the college's Public History program and Humanities Department, is free and open to the public, and will be held in Lewis Auditorium, 14 Granada St., at 5 p.m. Seating is on a first-come, first-served basis. If you are a person with a disability and need reasonable accommodations, please contact Lynn Francisco at 904-819-6460. Sign Language Interpreters are available upon request with a minimum of three days' notice. For more information on this, call (904) 826-8572. For general information about the event, call (904) 819-6205.