Game-2 Rainout, Ciego Took Opener 3-2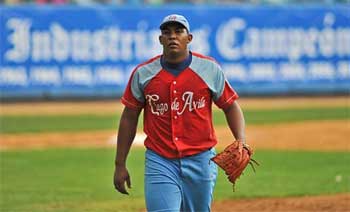 HAVANA TIMES — Game two of the championship series between Industriales and Ciego de Avila was rained out on Monday.  In the series opener on Sunday, Vladimir Garcia pitched Ciego to a hard fought 3-2 win over the home team and their top pitcher Odrisamer Despaigne.
The Latinamericano stadium was jammed packed with 55,415 fans for game one and they got their money's worth.
The game was scoreless for the first six innings and then suffered a rain delay, but virtually none of the fans were moving, noted Ray Otero of Baseballdecuba.com
When play resumed Despaigne allowed a hit to Yoelvis Fiss, who advanced to second on a sacrifice.  Industriales manager Lazaro Vargas decided to give Issac Martinez an intentional walk to aim for a double play or at least a force out.
But matters got more complicated for Despaigne after Lisdey Diaz singled to center to load the bases. With the tension running high, the righthander committed a balk allowing the runners to advance and bringing in the first run of the game.
The second run then scored on a passball that got by catcher Correa.  To make matters worse for Industriales, Raul Gonzalez followed with a double to score Diaz and put the game at 3-0.
However the home team didn't give up and in the bottom of the seventh managed their first run. Malleta opened with a single, advanced to second on a roller by Serguei Perez and then third on a wild pitch from Garcia. The first baseman scored on a ground ball by Mario Vega.
Despaigne got out of a jam in the eighth, with Rusney Castillo on second with nobody out and concluded his performance registering 8 innings allowing 7 hits and three runs, while walking one and striking out six.
In the bottom of the eighth Garcia walked the first two batters he faced, Olivares and Chirino, but Juan C. Torrente lined back to the box for a double play that took its toll.
In the ninth, Industriales threatened and managed its second run.  With one out, Malleta was hit by a pitch and advanced to second on a ground out by Serguei Perez. Then a hit by Yasmani Tomas scored Malleta and veteran Carlos Tabares stepped into the batters box with two outs.
Tabares belted a long fly to left that brought Industriales fans to their feet that went just foul. Garcia then got Tabares on a liner to right for the final out.
Garcia went the route allowing three singles, two earned runs with one strike out and three walks and two hit batters. He earned his 19th victory of the season tying Ismel Jimenez of Sancti Spiritus who finished his season at 19-5.
The game two match-up on Monday (rained out) was to see lefty Ian Rendon for Industriales against right-hander Osmar Carrero of Ciego de Avila.