Havana Coastal Flooding Continues as Irma Moves North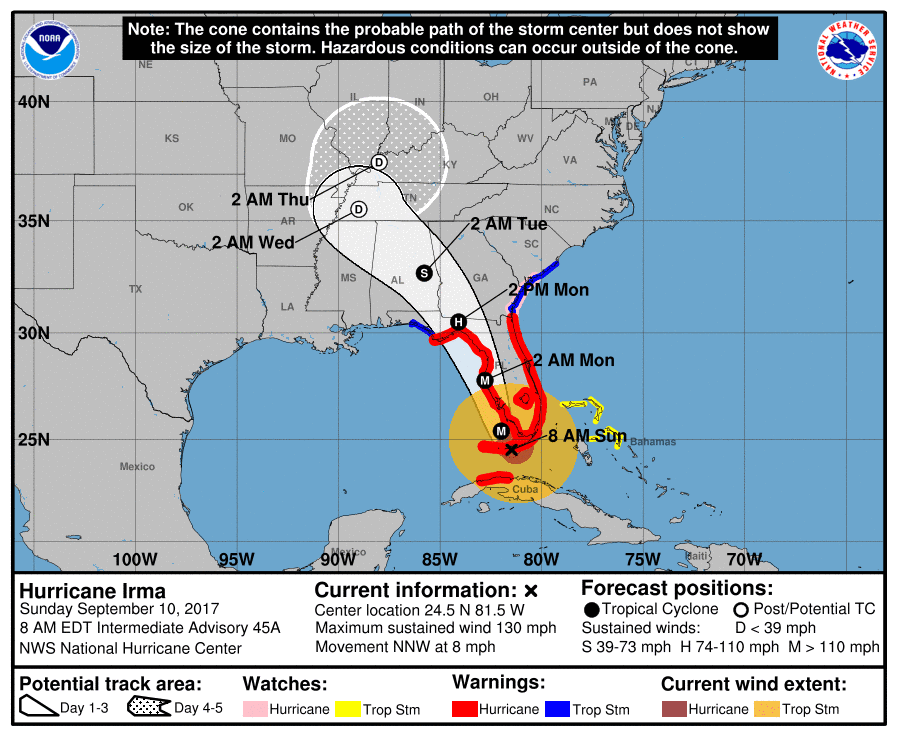 By Circles Robinson
HAVANA TIMES – A sea surge that reaches from 5 to 7 blocks in some areas of the Cuban capital continues and is expected to last throughout the day on Sunday, reported meteorologist Jose Rubiera during his latest report on Cuban TV.
While many people were evacuated from their homes in the affected area, the damage caused by the salt water continues and will be extensive. Hurricane conditions in the capital and other portions of the Cuban coastline are expected to last through this morning.
We still don't have any reports yet from Varadero which withstood hurricane force winds for several hours late Saturday and early Sunday. Some 17,000 tourists were reportedly held up there in safe buildings.
At 8:00 a.m. the center of Irma is now only 20 miles east-southeast from Key West, Florida and 110 miles south of Naples. The center is moving north-northwest at a speed of 8 mph (13 km/h)The maximum sustained winds have increased again to 130 mph (215 (km/h), a category 4 storm on the Saffir-Simpson 1- maximum 5 scale.
While in Cuba the north coast, especially in Havana and Matanzas are still under hurricane warning, the alert was taken off for the provinces of Ciego de Avila, Sancti Spiritus and Villa Clara.
The last time such a strong sea invasion occurred in Havana was back in 2005 with hurricane Wilma when it was also approaching Florida.
On Saturday Cuban president Raul Castro said the damage to electric power lines was extensive throughout the country. He said that instead of sending brigades to specific areas like after other storms, this time they would need to create groups of workers in each affected municipality to carry out the cleanup, digging of holes and transport of posts.
Castro noted that the Electric Company workers would then do the specialized work, with the transmission lines and transformers.
The following is the latest bulletin from the National Hurricane Center with the latest information on hurricane and tropical storm warnings.
———
Hurricane Irma
NWS National Hurricane Center Miami FL
800 AM EDT Sun Sep 10 2017
…CENTER OF IRMA ABOUT TO MAKE LANDFALL IN THE LOWER FLORIDA
KEYS…
SUMMARY OF 800 AM EDT…1200 UTC…INFORMATION
———————————————-
LOCATION…24.5N 81.5W
ABOUT 20 MI…30 KM ESE OF KEY WEST FLORIDA
ABOUT 110 MI…180 KM S OF NAPLES FLORIDA
MAXIMUM SUSTAINED WINDS…130 MPH…215 KM/H
PRESENT MOVEMENT…NNW OR 330 DEGREES AT 8 MPH…13 KM/H
MINIMUM CENTRAL PRESSURE…929 MB…27.43 INCHES
WATCHES AND WARNINGS
——————–
CHANGES WITH THIS ADVISORY:
The Government of Cuba has discontinued the Hurricane Warning for
the Cuban provinces of Ciego de Avila, Sancti Spiritus, and Villa
Clara.
SUMMARY OF WATCHES AND WARNINGS IN EFFECT:
A Storm Surge Warning is in effect for…
* South Santee River southward to Jupiter Inlet
* North Miami Beach southward around the Florida peninsula to the
Ochlockonee River
* Florida Keys
* Tampa Bay
A Hurricane Warning is in effect for…
* Fernandina Beach southward around the Florida peninsula to Indian
Pass
* Florida Keys
* Lake Okeechobee
* Florida Bay
* Cuban provinces of Matanzas and La Habana
A Hurricane Watch is in effect for…
* North of Fernandina Beach to Edisto Beach
A Tropical Storm Warning is in effect for…
* West of Indian Pass to the Okaloosa/Walton County Line
* North of Fernandina Beach to South Santee River
A Tropical Storm Watch is in effect for…
* Bimini and Grand Bahama
A Storm Surge Warning means there is a danger of life-threatening
inundation, from rising water moving inland from the coastline,
during the next 36 hours in the indicated locations. For a
depiction of areas at risk, please see the National Weather
Service Storm Surge Watch/Warning Graphic, available at
hurricanes.gov. This is a life-threatening situation. Persons
located within these areas should take all necessary actions to
protect life and property from rising water and the potential for
other dangerous conditions. Promptly follow evacuation and other
instructions from local officials.
Interests elsewhere in Cuba and the southeastern United States
should monitor the progress of Irma.
For storm information specific to your area in the United
States, including possible inland watches and warnings, please
monitor products issued by your local National Weather Service
forecast office. For storm information specific to your area
outside the United States, please monitor products issued by your
national meteorological service.
DISCUSSION AND 48-HOUR OUTLOOK
——————————
At 800 AM EDT (1200 UTC), the center of Hurricane Irma was located
near latitude 24.5 North, longitude 81.5 West. Irma is moving toward
the north-northwest near 8 mph (13 km/h), and an increase in
forward speed is expected later today, with that motion continuing
through Monday. On the forecast track, the eye of Irma should move
over the Lower Florida Keys shortly, and then move near or over the
west coast of the Florida Peninsula later today through tonight.
Irma should then move inland over northern Florida and southwestern
Georgia Monday afternoon.
Maximum sustained winds are near 130 mph (215 km/h) with higher
gusts. Irma is a category 4 hurricane on the Saffir-Simpson
Hurricane Wind Scale. While weakening is forecast, Irma is expected
to remain a powerful hurricane while it moves through the Florida
Keys and near the west coast of Florida.
Hurricane-force winds extend outward up to 80 miles (130 km) from
the center and tropical-storm-force winds extend outward up to 220
miles (350 km). A wind gust to 89 mph (143 km/h) was recently
measured at the Key West National Weather Service Forecast Office.
Sustained winds of 46 mph (74 km/h) with a gust to 72 mph (117 km/h)
was recently reported at Tamiami Airport in West Kendall, Florida.
The estimated minimum central pressure is 929 mb (27.43 inches).
HAZARDS AFFECTING LAND
———————-
STORM SURGE: The combination of a dangerous storm surge and the
tide will cause normally dry areas near the coast to be flooded by
rising waters moving inland from the shoreline. The water is
expected to reach the following HEIGHTS ABOVE GROUND if the peak
surge occurs at the time of high tide…
Cape Sable to Captiva…10 to 15 ft
Captiva to Ana Maria Island…6 to 10 ft
Card Sound Bridge through Cape Sable, including the Florida Keys…
5 to 10 ft
Ana Maria Island to Clearwater Beach, including Tampa Bay…
5 to 8 ft
North Miami Beach to Card Sound Bridge, including Biscayne Bay…
3 to 5 ft
South Santee River to Fernandina Beach…4 to 6 ft
Clearwater Beach to Ochlockonee River…4 to 6 ft
Fernandina Beach to Jupiter Inlet…2 to 4 ft
North of North Miami Beach to Jupiter Inlet…1 to 2 ft
The deepest water will occur along the immediate coast in areas of
onshore winds, where the surge will be accompanied by large and
destructive waves. Surge-related flooding depends on the relative
timing of the surge and the tidal cycle, and can vary greatly over
short distances. For information specific to your area, please see
products issued by your local National Weather Service forecast
office.
The combination of a life-threatening storm surge and large breaking
waves will raise water levels ABOVE NORMAL TIDE LEVELS by the
following amounts within the hurricane warning area near and to the
north of the center of Irma. Near the coast, the surge will be
accompanied by large and destructive waves.
Northern coast of Cuba in the warning area…5 to 10 ft
WIND: Hurricane conditions are expected to continue within the
hurricane warning area along the north coast of Cuba through
this morning. Hurricane conditions are spreading across portions of
the Florida Keys and southern Florida. Winds affecting the upper
floors of high-rise buildings will be significantly stronger than
those near ground level. Tropical storm and hurricane conditions
are expected to spread northward across the remainder of the warning
areas through Monday. Tropical storm conditions are possible in the
watch area in the Northwestern Bahamas today.
RAINFALL: Irma is expected to produce the following rain
accumulations through Wednesday:
Western Cuba…Additional 3 to 6 inches, isolated 10 inches.
Western Bahamas…Additional 2 to 4 inches, isolated 6 inches.
The Florida Keys…15 to 20 inches, isolated 25 inches.
The southern Florida peninsula…10 to 15 inches, isolated 20
inches.
The remainder of the Florida peninsula and southeast Georgia…8 to
12 inches, isolated 16 inches.
The rest of Georgia, eastern Florida Panhandle, southern and western
South Carolina, and western North Carolina…3 to 6 inches, isolated
10 inches.
Eastern Alabama and southern Tennessee…2 to 5 inches.
In all areas this rainfall may cause life-threatening flash floods
and, in some areas, mudslides.
TORNADOES: Tornadoes are possible through tonight, mainly across
southern, central, and eastern portions of the Florida Peninsula.
THE EYE: Do not venture outside when the calm eye of the hurricane
passes over, as dangerous winds will return very quickly when the
eye moves away.
SURF: Swells generated by Irma are affecting the southeast coast of
the United States. These swells are likely to cause life-
threatening surf and rip current conditions. Please consult
products from your local weather office.