Havana Rips US over Sanctions against Venezuela and Cuba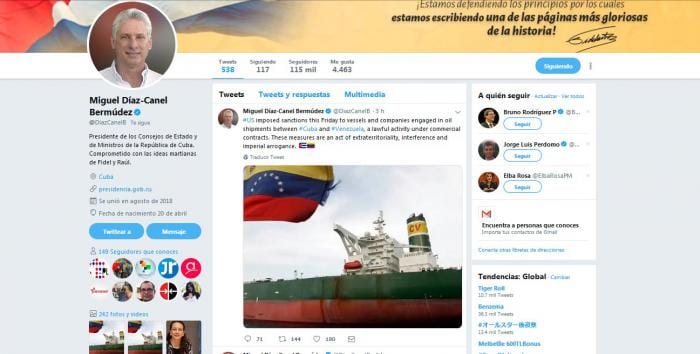 HAVANA TIMES – Cuban president Miguel Diaz-Canel called the recently imposed US sanctions against Venezuela and Cuba "an act of extraterritoriality, interference and imperial arrogance," reported the Communist Party's Granma newspaper online on Saturday.
The Cuban leader expressed on his Twitter account that the sanctioned activity is legal and is covered by commercial agreements, added Granma.
Diaz-Canel made his comments through his Twitter account deploring the sanctions announced this Friday by the US Treasury Department against vessels of the Venezuelan oil sector and others that transport oil to Cuba.
The measures are part of the onslaught adopted by the president of the United States, Donald Trump, against both nations, with the justification of taking measures "against a vital source of wealth" of the Venezuelan government of Nicolas Maduro, said Diaz Canel.
Ines María Chapman Waugh, one of Cuba's many vice presidents, said on the social network, that these actions are part of the cruelties and injustices of the United States government, noted Granma.
The Trump administration promised to impose additional sanctions against the Cuban government for its support Nicolas Maduro in Venezuela.