Havana Weather for January 23-29
Cool temperatures and little rain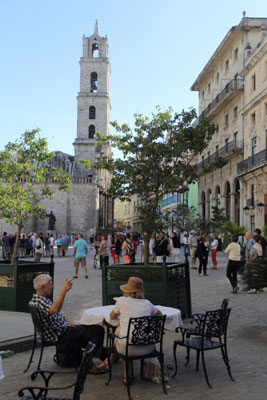 Eduardo A. Fernández Díaz
HAVANA TIMES — Cuba's mild winter continues with some cold moist air expected to reach the territory from the United States in the coming days.
Some isolated showers are forecast for Friday, but not much more rain during this seven day period. The weekend should be sunny.
A new cold front with considerable moisture is expected on Tuesday, bringing some rain on Tuesday and Wednesday, but temperatures will not fall much.
High temperatures will range around 24° C (75 F) and the lows around 16° C (61 F).
Moderate winds from the north are expected over the weekend and through Tuesday. On these days there will be danger for small vessels. The sea surface temperature will reach 24° C (75 F).
Weekly Forecast valid from Wednesday January 22
Thursday January 23, max 25° C (77 F) min 16° C (61 F)
cloudy
Friday January 24, max 24° C (75 F) min 15° C (59 F)
scattered showers
Saturday January 25, max 23° C (73 F) min 16° C (61 F)
sunny
Sunday January 26, max 25° C (77 F) min 17° C (63 F)
sunny
Monday January 27, max 26° C ( 79 F) min 16° C (61 F)
sunny
Tuesday January 28, max 24° C (75 F) min 15° C (59 F)
isolated showers
Wednesday January 29, max 23° C (73 F) min 16° C (61 F)
isolated showers