Havana Weather for June 26 – July 2
Hot, some rain in the afternoon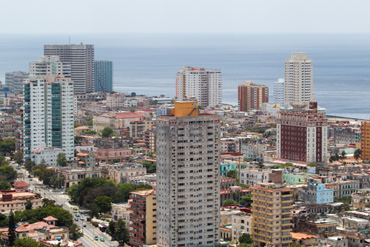 Eduardo A. Fernández Díaz
HAVANA TIMES – The hot weather will continue during the next week period. We will be under a weak anticyclone influence. The days will be partly cloudy, with a refreshing rain in the afternoon most likely starting Saturday in the city and in the municipalities inland from the capital.
It will be good beach weather or for other outdoor activities such as walking around the city. The sensation of heat in the shade will not be as stifling. We recommend using sunscreen and cool clothes.
In the next five days no hurricane activity is expected for the area and there will be an enjoyable breeze near the sea. Early mornings will be relatively warm, but nothing that cannot be resolved with a fan.
The maximum temperature will remain stable around 32° C (90 F) and minimum of 24° C (75 F).
The sea surface temperature will reach 27° C (81 F).
Weekly Forecast valid from Wednesday June 25
Thursday, June 26, max 32° C (90 F) min 24° C (75 F)
Partly Cloudy
Friday, June 27, max 32° C (90 F) min 24° C (75 F)
Partly Cloudy
Saturday, June 28, max 32° C (90 F) min 24° C (75 F)
Afternoon showers
Sunday, June 29, max 32° C (90 F) min 24° C (75 F)
Afternoon showers
Monday, June 30, max 32° C (90 F) min 24° C (75 F)
Afternoon showers
Tuesday, July 1, max 32° C (90 F) min 24° C (75 F)
Afternoon showers
Wednesday, July 2, max 32° C (90 F) min 25° C (77 F)
Afternoon showers