Havana Weather for Oct. 31 – Nov. 6
Cold front expected for Sunday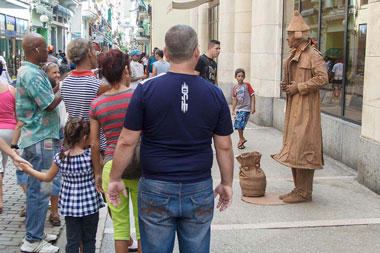 Eduardo A. Fernández Díaz
HAVANA TIMES – In the beginning of the period Oct. 31 to Nov. 6th we will be under the influence of a high pressure area, so we will have sunny days with little chance of rain . Starting Sunday some rain may occur associated with the passage of a cold front. Generally, temperatures will be pleasant.
The highs fall gradually from 31°C (88 F) at the beginning of the period to reach 27°C (81 F) on Monday. The lows will be stable around 23°C (73 F).
Until Sunday northeast winds speeds will blow at around between 25 and 30 M/ph (15 to 19 K/ph).
No conditions exist for cyclonic development in the area over the next five days.
The sea surface temperature will reach 29° C (84 F).
Weekly Forecast valid from Wednesday Oct. 30th
Thursday October 31 max 31° C (88 F) min 23° C (73 F)
sunny
Friday November 1 max 31° C (88 F) min 23° C (73 F)
sunny
Saturday November 2 max 31° C ( 88 F) min 23° C (73 F)
Partly Cloudy
Sunday November 3 max 28° C ( 82 F) min 23° C (73 F)
Showers
Monday November 4 max 27° C ( 81 F) min 22° C (72 F)
Scattered showers
Tuesday November 5 max 28° C (82 F) min 22 ° C (72 F)
Scattered showers
Wednesday November 6 max 29° C (84 F) min 23° C (73 F)
sunny