Havana Weather for Oct. 8-14
By Yanet Diaz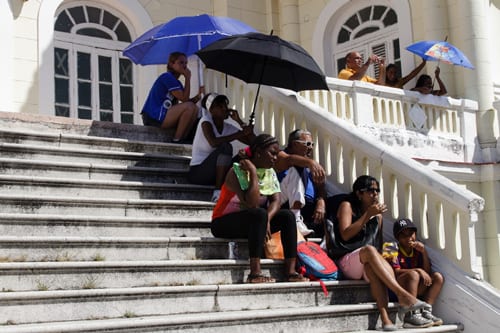 HAVANA TIMES – Good weather is forecast for the week with some isolated afternoon showers.
The winds will be moderate and variable in direction, with speeds between 15 and 20 km/h.
High temperatures will range between 30 and 32° C (86 and 90 F), while the lows will be between 20 and 24° C (68 and 75 F). The relative humidity will range between 50 and 70%.
The sea surface temperature will be 28° C (82 F).
Weekly Forecast valid from Wednesday October 7
Thursday, October 8, max 31° C (88 F) min 23° C (73 F)
Partly cloudy, rain in the afternoon
Friday, October 9, max 31° C (88 F) min 23° C (73 F)
Partly Cloudy, Scattered rain
Saturday, October 10, max 30° C (86 F) min 23° C (73 F)
Partly cloudy, rain in the afternoon
Sunday October 11, max 30° C (86 F) min 23° C (73 F)
Partly Cloudy, Scattered rain
Monday, October 12, max 29° C (84 F) min 23° C (73 F)
Partly cloudy, rain in the afternoon
Tuesday, October 13, max 29° C (84 F) min 22° C (72 F)
Partly cloudy, rain in the afternoon
Wednesday, October 14, max 29° C (84 F) min 22° C (72 F)
Partly cloudy