Havana Weather for Sept. 26 – Oct. 2
Two tropical systems in the Atlantic
By Yanet Díaz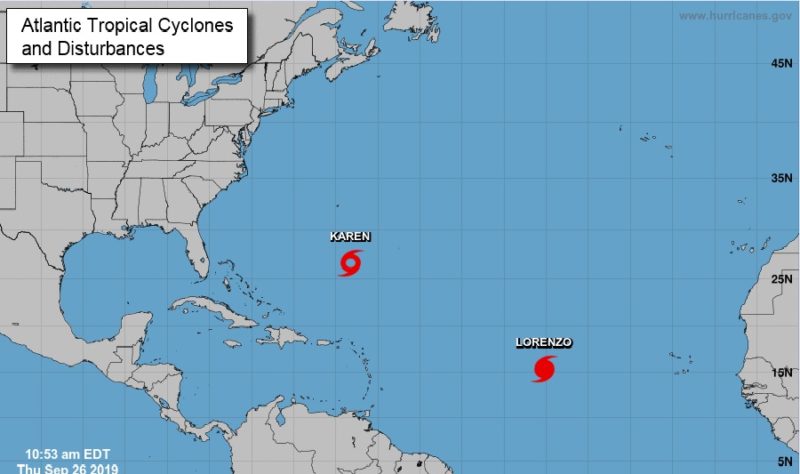 HAVANA TIMES – The days will dawn with little cloudiness, increasing in the afternoons, producing some isolated rains and showers in the capital. Winds will be variable and weak for much of the day, and in the late afternoon they will blow from the northeast with speeds between 15 and 30 km/h.
The relative humidity will remain high, with peaks of up to 95% in the mornings. The high temperatures will be between 29 and 31° C (84 and 88 F), and the lows between 23 and 25° C (73 and 77 F). The sea surface temperature will be 29° C (84 F).
About the current weather situation:
Hurricane Lorenzo is currently west of the islands of Cape Verde, moving west-northwest with abundant associated convection, however, due to its current trajectory forecast it does not represent a danger to the Caribbean islands.
On the other hand, Tropical Storm Karen is located approximately 800 km south of Bermuda and moves north-northeast at approximately 24 km/h. It currently has maximum sustained winds of 64 km/h, with higher gusts and abundant rains and associated storms. It is predicted that a slight decrease in its movement speed will occur, and towards the weekend it could make a loop in its displacement over the South Atlantic, returning to the southwest. However, so far it is not estimated that it will intensify or increase to the hurricane category.
For the rest of the North Atlantic, the Caribbean Sea and the Gulf of Mexico, further tropical cyclone formation is not expected during the next 5 days.
Weekly forecast, valid from Wednesday, September 25

Thursday September 26, max 30° C (86 F) min 24° C (75 F)
Afternoon showers

Friday, September 27, max 31° C (88 F) min 25° C (77 F)
Afternoon showers

Saturday September 28, max 31° C (88 F) min 25° C (77 F)
Afternoon showers

Sunday September 29, max 30° C (86 F) min 24° C (75 F)
Afternoon showers

Monday September 30, max 30° C (86 F) min 24° C (75 F)
Partly cloudy

Tuesday October 1, max 29° C (84 F) min 23° C (73 F)
Rain showers

Wednesday October 2, max 29° C (84 F) min 23° C (73 F)
Rain showers