Havana Weather for September 5-11
Dorian, Fernand and Gabrielle…

By Yanet Díaz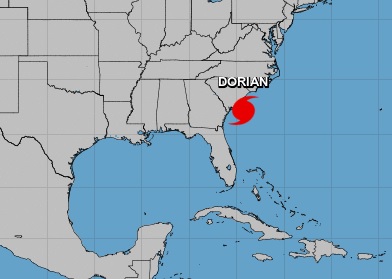 HAVANA TIMES – For this Thursday we will have some rains during much of the day, and from the weekend we will have good weather conditions, with partly cloudy skies, moderate winds and low probability of rains. Winds will be variable and weak, less than 20 km/h.
The humidity will remain high, which can increase the thermal sensation. The high temperatures will be 31 and 32° C (88 and 90 F), and the lows 24 and 25° C (75 and 77 F). The sea surface temperature will remain at 30° C (86 F).
About the current weather situation:
Hurricane Dorian continues to move northeast along the entire east coast of the United States and some clouds associated with the circulation of this system have been affecting much of Cuba. For its part, the tropical depression Fernand in the Gulf of Mexico moved west-northwest into Mexican territory without representing a danger to Cuba.
In the eastern Atlantic, tropical storm Gabrielle is moving at approximately 15 km/h, but trajectory forecasts indicate that it will move northwest over the Atlantic, far from affecting the islands of the West Indies.
After the convective instability associated with Dorian, a regime of high pressures on the Caribbean and the Gulf of Mexico will be established, so that we will have a few days with good weather conditions in Havana.
For the North Atlantic, the Caribbean Sea and the Gulf of Mexico, the probability of tropical cyclonic development will remain high for the next 5 days.
Weekly forecast, valid from Wednesday, September 4

Thursday September 5, max 32° C (90 F) min 25° C (77 F)
Rain showers

Friday, September 6, max 31° C (88 F) min 25° C (77 F)
Afternoon showers

Saturday September 7, max 31° C (88 F) min 24° C (75 F)
Partly cloudy

Sunday September 8, max 31° C (88 F) min 25° C (77 F)
Partly cloudy

Monday, August 9, max 31° C (88 F) min 25° C (77 F)
Partly cloudy

Tuesday August 10, max 32° C (90 F) min 25° C (77 F)
Partly cloudy

Wednesday, August 11, max 32° C (90 F) min 25° C (77 F)
Partly cloudy