Havana Wins Cuba Baseball Opener
By Circles Robinson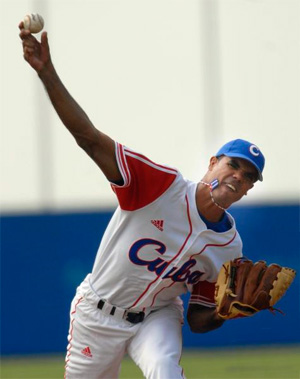 HAVANA TIMES, Nov.2 – The Cuban League Baseball Season got underway on Sunday with the inaugural game between last season's champs, Havana Province and runner-up Villa Clara.
The game featured two of Cuba's top young pitchers Freddy Asiel Alvarez and Miguel Alfredo Gonzalez and both were in good form.
Miguel Alfredo pitched seven innings of four-hit shutout ball to get the win, 1-0, with relief help from closers Jose Angel Garcia and Miguel Lahera.
For his part, Freddy Asiel took the loss allowing only four hits in 7.2 innings but gave up the game's only run in the bottom of the eighth, when Havana clean-up hitter Luis Orta batted an RBI single.
A full schedule of eight, three-game series begins on Tuesday: Industriales hosts Isla de la Juventud; Havana vs. Sancti Spiritus; Pinar del Rio vs. Cienfuegos; Guantanamo vs. Las Tunas; Santiago de Cuba vs. Camaguey; Ciego de Avila vs. Granma, Villa Clara vs. Holguin and Matanzas vs. Metropolitanos.
All games are at 7:00 p.m. except the Industriales/Isla game which is at 1:30 pm.
See the full Cuban League Baseball Season schedule.