Havana's "Industriales" to Begin Baseball Season at Alternative Venue
Rogelio Manuel Díaz Moreno
HAVANA TIMES — On Tuesday night, journalists from Havana's radio station COCO brought surprising news to all baseball aficionados, particularly those in the Cuban capital. As has been previously reported by various newspapers, the city's Latinoamericano stadium, the main venue of Havana's renowned Industriales baseball team, is undergoing repairs. The delay of these efforts and an earlier start date for the upcoming baseball season may force the team to play temporarily at an alternative venue.
Practically the entire stadium, from the playing field to the bleachers and other infrastructure, is currently undergoing repairs. The most complicated repair work involves the repair of the roof covering the bleachers. This work is carried out at great heights and, as one would expect, requires adequate precautions. The hosts of Tribuna Deportiva ("Sports Tribune"), aired by COCO at 8 pm, reported on these matters and the foreseeable repercussions for the imminent competition.
Last year, Industriales suffered a similar setback. For reasons similar to the repair of the stadium, the National Baseball Commission moved things around on the calendar. Thus, Havana's blue uniforms began the championship playing their first several sub-series as the visiting team to give more time to complete the work.
This year, according to COCO, the possibility of relocating the venue to the Santiago "Changa" Mederos is being considered. This is a smaller stadium located in Havana's Ciudad Deportiva complex. The "Changa" Mederos stadium was the venue of the Metropolitanos team some years ago, before the latter was dissolved by Cuban sports authorities.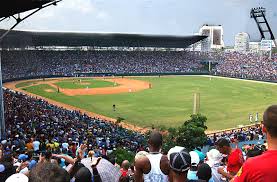 Havana's baseball aficionados will be very upset about this, even if it is only a temporary change in venue. The Latinamericano, with a capacity for 50 thousand people, is easily five times the size of its counterpart in the Ciudad Deportiva complex, and is far more glamorous as well.
Fans of Industriales at the Latinoamericano are easily identified – they commonly sit next to third base and wear blue clothing. The fans of the rivaling team usually crowd at the opposite end, next to first base, wearing red, green or other colors, depending on the uniform of the visitors.
Aficionados, ball players and journalists regard the Latinoamericano as a unique venue among Cuba's baseball stadiums. It was built in the 1940s and expanded at later dates. It has been the venue of important international tournaments held in Cuba, such as the Pan-American Games of 1991. Many baseball players have stated they feel greater pressure when playing in its field, for sporting and historical reasons (not the mention the cheering or booing dished out by tens of thousands of spectators).