Heineken's Brief Reign in Havana
Vicente Morin Aguado
HAVANA TIMES — Heineken has been the top-selling beer in Havana for some days now. The city's Carlos III shopping mall – possibly the largest in the country, with more than ten thousand square meters of commercial establishments – appears to have no other beer brand in stock, and one runs into the familiar green bottle at every street corner in the capital.
The Dutch product got its chance following the unexplained disappearance of Cuba's home brews, particularly the highly-popular Bucanero and Cristal brands, manufactured jointly with Canada's Labatt Blue beer company.
There are no official reports on this new product crises. We can only assume our proud Canadian partners will not simply give up their privileged position in Cuba's market, where foreign competitors must sell at prices higher than those of products manufactured on the island.
In view of the above, it is indeed news that Heinecken, sold at 1.65 Cuban Convertible Pesos the bottle (roughly the same amount in US dollars) should now be the top-selling beer (at least temporarily). The rise of the Dutch product to the top was gradual, as the stocks of competitors with slightly lower prices, such as Becks and Corona, first had to run out.
Speculation prompted by shortages of this coveted elixir has reached cafeterias and restaurants, where one has to pay as much as two CUC or more to have a beer. This begs the question: is there or isn't there beer? For the time being, it seems as though whatever beer's left is being put away and offered to the more anxious customers willing to pay the higher price set by waiters.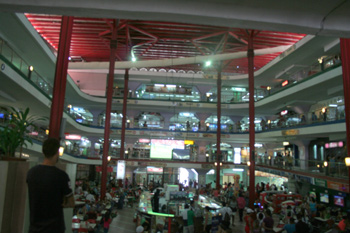 To top things off, other products, sold in Cuban pesos, have also become scarce or disappeared completely. I am referring to Cuba's Cacique and Mayabe brand beers, sold at 20 and 18 Cuban pesos, respectively. After the unexpected shortages hit, many drinkers began to hoard the product. Employees at stores and eateries have been doing something similar, as was to be expected.
I've been seeing all manner of similar crises in Cuba's services sector since I can remember (for as many as fifty years, perhaps), and I am positive these beer shortages will not last long. We are talking about a highly important product in terms of earnings in the country's retail sector, a product which, coupled with other alcoholic beverages, makes a decisive contribution to our internal financial balance.
I don't think Labatt Blue representatives are willing to yield their ground to Heineken beer. The proud northerners will drive off their competitors from the Netherlands and the foamy and amber-colored waters will again find their level, announcing the end of Heineken's brief reign in Havana.