Hollywood Style Gold Robbery at Brazil Airport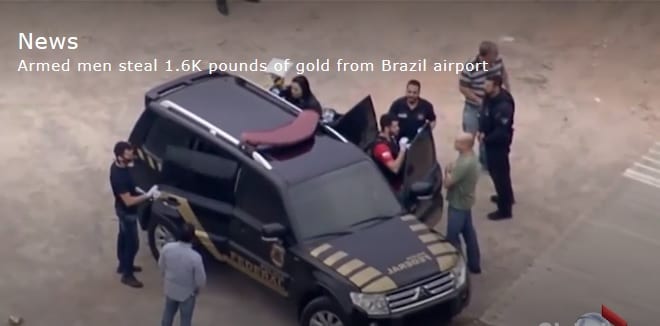 HAVANA TIMES – A gang of thieves wearing police uniforms made away with more than 700 kilograms of gold valued at around 32.2 million dollars at Brazil's Sao Paulo airport, reported dpa news.
The eight masked intruders entered the cargo terminal in two police pick-up trucks on Thursday, the reports said citing police. The armed assailants then forced airport employees to load gold into one of the vehicles using a fork-lift truck, in scenes that wouldn't be out of place in a Hollywood heist film.
No shots were fired during the robbery, which was over in around two and a half minutes, as seen in CCTV footage shown by the O Estado de Sao Paulo newspaper's website.
Prior to the robbery, the thieves had taken eight members of the family of a senior logistics employee hostage in order to obtain information about the delivery of the gold, O Globo reported.
The gold was to be transported to Zurich and New York. Reports on the amount of gold varied from between 720 and 750 kilos.
The getaway involved the criminals repeatedly switching cars and the stolen goods were transported in an ambulance at one point. The two pick-ups used in the robbery, which had been modified to look like service vehicles used by federal police, were later found in a storage facility a few kilometers from the airport.
The logistics worker's family were later released unharmed. A major operation is under way to catch the culprits.