How Venezuela's PDVSA Exports Crude Oil to Cuba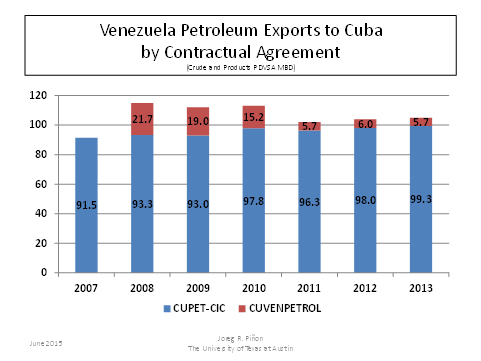 Jorge R. Piñon*
HAVANA TIMES- Recent press and financial institutions reports indicate that Venezuela has substantially cut back petroleum deliveries to Cuba under the terms and conditions of the October 2000 Convenio Integral de Cooperación Venezuela-Cuba CIC barter agreement.
The context and data sources used in these reports by which they reached these conclusions are incorrect.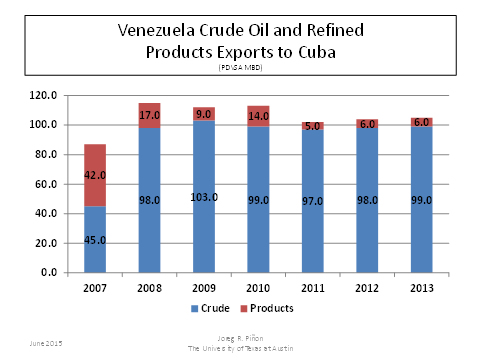 Yes, PDVSA has reduced the volume of Mesa 28 crude oil exported from Venezuela to Cuba; but it has been replaced by a similar volume of crude oil and petroleum products from its Caribbean transshipment terminals of Bonaire, St. Eustatius, Aruba and Bullen Bay and Willemstad, Curacao.
PDVSA lacks the heavy crude oil upgrading capacity at its Jose industrial complex in Northern Venezuela necessary to convert Orinoco production into marketable light synthetic crude oil, much needed to cover its contractual commitments to China and India.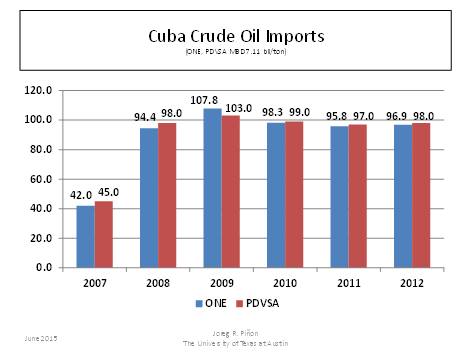 As a result, PDVSA is using some of its own declining light and medium domestic crude oil production, such as Mesa 30-28 crude oil, and for the first time in its history it is also purchasing foreign crudes such as Algerian Saharan Blend and Russian Urals, as diluent and blending stock for their Orinoco heavy crude.
Therefore analysts and researchers that follow oil tankers traffic from Venezuela to Cuba have now also to monitor marine movements between Caribbean transshipment oil terminals and Cuba in order to validate and account for total crude oil and petroleum products deliveries by Venezuela to Cuba.
Our analysis, including that of tanker movement reports, indicate that for 2014 and 1Q-2015 crude oil and petroleum products deliveries by Venezuela to Cuba are still in the average range of 80-90,000 barrels per day under the CIC barter agreement. (See Attachments) Monthly volume fluctuations will occur as a result of refinery unit maintenance (December-January) and hurricane threats when normal working inventory levels increase.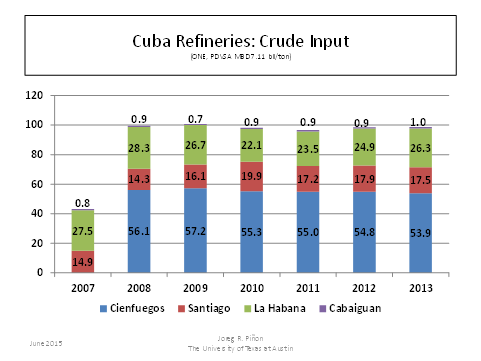 It is important also to note that the Cienfuegos CUVENPETROL joint venture has been processing and blending crude oil and petroleum products for sale to third parties, and these volumes are not part of contractual deliveries by Venezuela to Cuba under the CIC barter agreement. These arms-length commercial transactions are also often misrepresented as the re-sale by Cuba of Venezuelan crude oil deliveries under the CIC barter agreement, which is not the case.
(*) Jorge R. Piñon, Director
Latin America and Caribbean Program
The University of Texas at Austin – Jackson School of Geosciences
[email protected]
—–