Hu Jintao Visits Chinese Students in Cuba
HAVANA TIMES, Nov. 19.- President Hu Jintao visited Chinese Spanish language students studying in Ciudad Tarara on the outskirts of Havana on Tuesday. He was accompanied by his host President Raul Castro.
Hu Jintao met earlier in the day with former President Fidel Castro and the local press ran a photo of the encounter. Fidel has been outside of the public eye for over two years but has remained active, writing regular newspaper columns and occasionally meeting with heads of state or other important visitors.
Several accords were signed Tuesday as part of the visit to the island by Hu Jintao and a large Chinese business delegation. The cooperation is in fields including seismology, port rehabilitation and the sale of sugar and nickel. China-Cuba trade reached US $2.6 billion in 2007. Chinese technology has been instrumental in the reactivation of Cuba's ground transportation system.
A total of 2,022 Chinese students are currently studying in Cuba, of those 1,112 are taking intensive Spanish courses and 276 a full university language career, an indication that the Asian giant has its sights set on communication and commerce with Latin America. The others are studying medicine.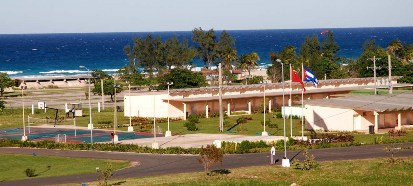 Tarara, a residential community before the Cuban Revolution, is close to the beach with numerous refurbished and new buildings being used for the language school. It was used as a popular kid's camp during the 1970s and 80s.
Not far from where the Chinese board and study, there are also homes where rotating groups of Ukrainian victims of the 1986 Chernobyl Nuclear accident receive medical treatment, a program Cuba has maintained since the late 1980s.