Hurricane Maria Closes in on the Virgin Islands and Puerto Rico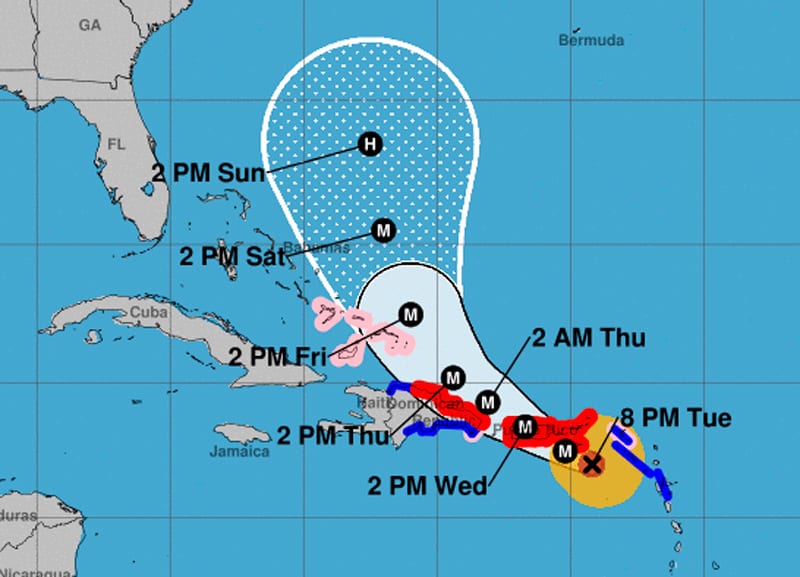 HAVANA TIMES – Hurricane Maria continues its path of devastation tonight to the Virgin Islands and should cross Puerto Rico on Wednesday.  Incredibly the system now packs winds of 175 mph (280 km/h) and is expected to pass over land with full force.
At 8 PM in Cuba (EDT), the center of the system was located at 60 miles southeast of St. Croix and 160 miles southeast of San Juan, Puerto Rico.
Numerous warnings went out yesterday and today for people to leave unsafe housing and seek refuge before the storm conditions deteriorate, when it will be too late.
Maria is moving west-northwest at a speed of 10 mph. The minimum central pressure is now only 909 milibars.
We are still waiting for details from the hurricane's passing over Dominica on Monday night where massive damage occurred.  The Prime Minister, Roosevelt Skerrit, wrote on his Facebook page that he was trying to borrow a helicopter to fly over the island to get a good picture of the situation, but he has not added a new post since late last night.
The Virgin Islands also suffered considerable damage with the passing of hurricane Irma less than two weeks ago and were just beginning their recovery efforts.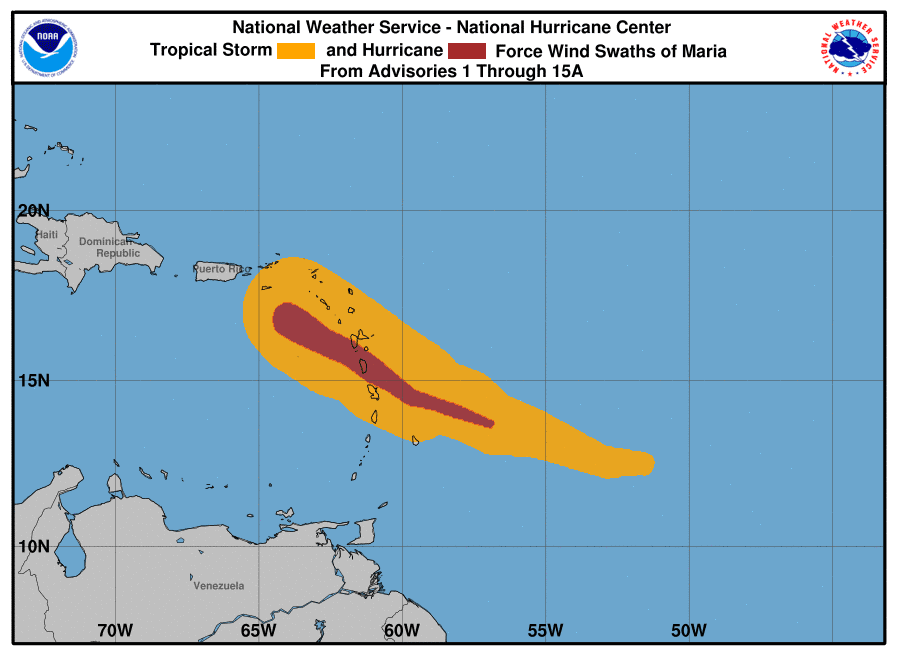 Maria is currently forecast to pass just north of the coast of the Dominican Republic on Wednesday night or Thursday, notes the National Hurricane Center (NHC). The precise route towards the neighboring country will emerge after the core leaves land in Puerto Rico.
A slow weakening of the hurricane is expected after it emerges over the Atlantic north of Puerto Rico and the Dominican Republic.
Hurricane force winds currently extend 35 miles from the center and tropical storm force winds 140 miles from the center.
At this moment a hurricane warning is out for the US and British  Virgin Islands, Puerto Rico, Culebra and Vieques and the Dominican Republic from Cabo Engano to Puerto Plata.
A tropical storm warning is in effect for: Saba and St. Eustatius, St. Maarten, Guadeloupe, the Dominican Republic west of Puerto Plata to the northern border with Haiti.
A Hurricane Watch is also in effect for the Turks and Caicos Islands and the Southeastern Bahamas.
At this time there is no mention from the NHC or the Cuban Weather Service of a threat posed to Cuba.