Hurricane Maria Slowly Exits Puerto Rico, Approaches the DR
By Circles Robinson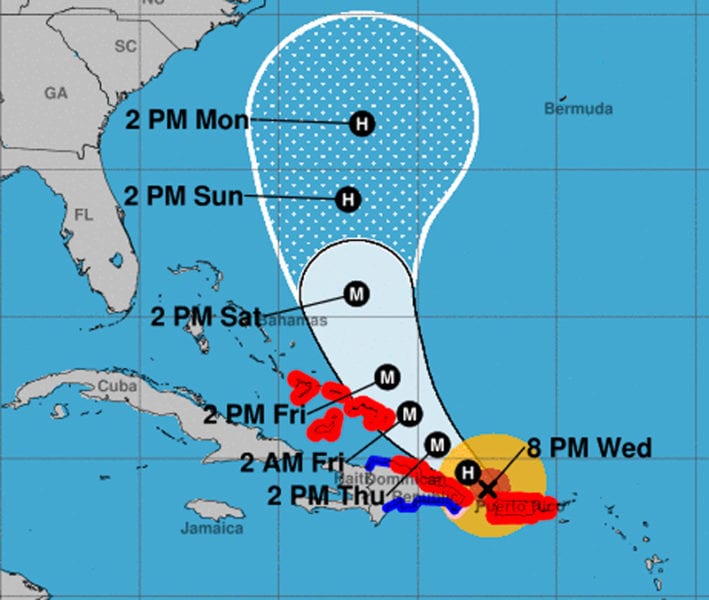 HAVANA TIMES – The center of hurricane Maria is now just off the coast of the northwestern tip of Puerto Rico as it approaches the northeastern corner of the Dominican Republic.
The system caused major but still undetermined damage as it engulfed the whole of Puerto Rico, where hurricane or tropical storm conditions remain throughout the country. As much as 24–36 inches of rain is expected to accumulate on the island posing a huge risk of flooding and landslides, noted the National Hurricane Center (NHC) at 8 p.m. EDT.
With life endangering risks still at hand, a curfew is in effect for 6 p.m. to 6 a.m. and the authorities are warning people to stay inside and off the streets. Electric power is out throughout the country of 3.4 million people.
No accurate data on any injuries or loss of life in Puerto Rico, or the extensive material damage, will be forthcoming until the weather normalizes as Maria distances itself from the island.
In its latest report, the NHC pegged the center of Maria at 55 miles (90 kilometers) east-northeast of Punta Cana, Dominican Republic.  The winds, which weakened some when interacting with the mountains of central Puerto Rico, are still the highly dangerous 110 mph (175 km/h), a Category 2 hurricane on the 1-5 Saffir-Simpson scale.
The system is moving to the northwest at a speed of 12 mph (19 km/h) and is expected to slow some in the coming hours. Forecasters say it will most likely regain some of its intensity while over water.
Although Maria is expected to remain off the coast of the DR, the hurricane winds extend out 60 miles from the center and tropical storm winds up to 150 miles outward. At present, tropical storm conditions are spreading across portions of the DR, and hurricane conditions should reach the hurricane warning area later tonight from Cabo Engano to Puerto Plata.
The system is producing considerable rainfall and the northern and eastern DR is expected to receive from 8 to 16 inches, 20 in isolated areas.  The same is forecast for the Turks and Caicos Islands and the southeastern Bahamas. Northern Haiti should get between 2 and 4 inches.  The NHC warns of life-threatening flash floods and mudslides as well as sea swells on the coasts.
Cuba is not mentioned in any NHC reports at this time.  The island's Civil Defense authorities called an early hurricane warning on Monday night to include the far northeastern provinces of Holguin and Guantanamo, which could experience some rains, winds and a sea surge.