Important Works by Cuban Artists Auctioned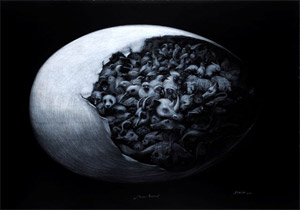 HAVANA TIMES — "Subasta Habana" (Havana Auction) will be putting more work on the auction block in its upcoming edition titled "A Viva Voz." On November 1, some 70 lots of Cuban works and decorative arts will be put up for sale, reported the event's organizers on Monday.
Auctioned off will be a total of 44 lots of works by 33 Cuban artists, three of whom are/were from academia, 22 from modern art and eight working in the contemporary art field.
The Cuban artists are from different eras, genres, styles and sizes, and include Wilfredo Lam, Rene Portocarrero, Raul Martinez, Cundo Bermudez, Servando Cabrera, Roberto Fabelo, Carlos Garaicoa and Carlos Alfonzo.
This event, the most important art auction in Cuba, will offer highly prized works. Among those that stand out are "Arlequines" (1956), by Cundo Bermudez; "Florero" (1963) and "Mujer" (1967) by Rene Portocarrero; and the abstract work "S/T," by Jose Maria Mijares.