Industriales Falls 8-3 to Ciego de Avila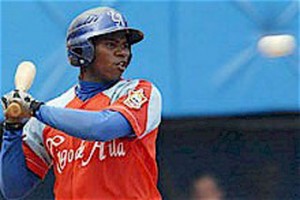 HAVANA TIMES — Ciego de Avila completed a two-game sweep at Havana's Latinoamericano Stadium with an 8-3 rain-delayed, late-night win over Industriales in their championship best-of-seven series.
Play now moves to Ciego de Avila for three games on Friday, Saturday and Sunday, weather permitting.
The game Tuesday didn't start until 9:53 p.m. A stellar relief performance from Yandy Guevara and a two-run homer by Rusney Castillo were the highlights for Ciego de Avila.
Guevara came on in the fifth with the score 6-3 in favor of Ciego and he held Industriales scoreless until the end, allowing only one hit and striking out three.
Castillo homered in the third inning giving Ciego a 2-1 lead they would never relinquish. Designated hitter Issac Martinez added two hits including a double and 3 RBIs for the Ciego cause.
Industriales starter Ian Rendon took the loss, going 4.1 innings allowing five runs on five hits. Ciego starter Osmar Carrero lasted 4.2 innings giving up three runs on eight hits.
Alexander Malleta had two hits and drove in a run for Industriales.
Ciego out hit Industriales 12 to 9 and committed one error to Industriales two.
Ciego de Avila were the runners-up last season to Pinar del Rio. They have never won a national championship. Industriales has won four in the last ten years.