Irma May Flood Havana Coastline
By Circles Robinson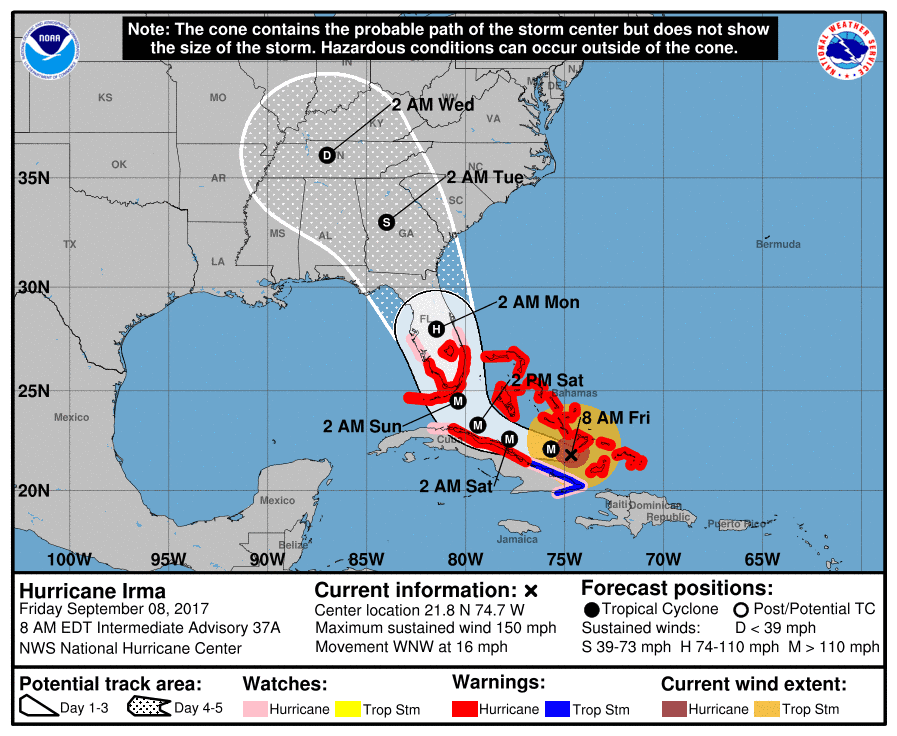 HAVANA TIMES – During the next 48 hours the powerful hurricane Irma is expected to move between the Bahamas and the Cuban northern coastline coming closest to Cuba in the provinces from Camaguey to Villa Clara, before an expected right turn towards Florida.
Civil Defense authorities are warning people not to circulate along the coastline in the provinces most affected. They further note that the heavy winds often lead to a cut in electric power.
Generators are in place to serve hospitals, health clinics, bakeries and water pumps if the main grid goes down, assures Jorge Hernandez, a civil defense expert at the Cuban Electric Company.
As always occurs in Cuba when a hurricane or tropical storm approaches, large scale evacuations are taking place in low lying areas and for people with deteriorated housing conditions.  Many people will be held up at schools and other better constructed public buildings while others move in with relatives or friends with better housing conditions. Tourists in the northern coast resort areas are being bused to safer areas.
Will Havana be affected?
Authorities in Havana are also expecting a sea surge that could include up to 500 meters (five blocks) inland, reports the official Granma newspaper.
"On Sunday September 10th there could be waves up to five meters high along the Havana malecón seawall lasting around six hours," said meteorologist Amilcar Estrada.
The last major sea surge in the Cuban capital took place in 2005 when hurricane Wilma was also moving towards Florida, the expected path of Irma, although further east.
At 6 AM, the Cuban Weather Service (Insmet) reported that Irma was now a Category 4 storm on the Saffir-Simpson scale of 1-5, having as lost a little intensity over night, but still highly dangerous.  Maximum sustained winds are now at 150 mph (250 km/h).
"Irma continues its advance to the west-northwest, approaching the seas to the north side of eastern Cuba in the early morning hours and its outer bands have increased rains in the provinces from Guantanamo to Camaguey, principally along the north coast. Coastal flooding has been reported on the north coasts of Guantanamo and Holguin provinces," reports Insmet.
The weather service predicts waves of up to 5 to 8 meters with coastal flooding starting today in the eastern region and then extending to central Cuba by the end of the day.
At 6 a.m. the center of hurricane Irma was located at 105 miles north of Punta de Maisi, Guantanamo and 112 miles east-northeast of Punta Lucrecia, Holguin.  The minimum pressure is now 925 hectoPascal.
Irma continues to move west at 16 mph (26 km/h) although Insmet predicts it will slow down some in the coming 12 to 24 hours.