Isaac Threatens Gulf Coast, still influencing Cuba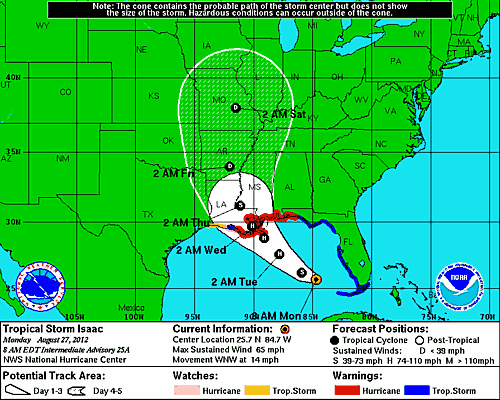 HAVANA TIMES —Tropical Storm Isaac gained a little in organization and strength last night as it churns on a northwest track in the direction of New Orleans or further east on the Gulf Coast. Back in Cuba, rains persist in a large part of the country.
The largest accumulated precipitation was registered in Topes de Collantes, Sancti Spiritus with just under 5 inches of rain between 8 p.m. Sunday and 5 a.m. on Monday, reported the Cuban Weather Service (INSMET)
Winds will continue blowing on the northwest and north central coasts of Cuba between 25 and 35 mp/h (40-55 kp/h) and sea navigation is not recommended.
No loss of life or serious injuries have been reported thus far during the passing of Isaac over and near Cuban territory although a damage report will be forthcoming after the Civil Defense authorities conclude their evaluation of the situation in all communities affected as well as on agriculture.
The National Hurricane Center in Miami is still predicting that Isaac will increase its current 65 mp/h winds to at least 75 mp/h before reaching the Gulf Coast, thus giving it hurricane status.
A hurricane warning is in effect for a wide are of the Gulf Coast from west of New Orleans to the Florida Panhandle.