Isaac to Eastern Cuba by Saturday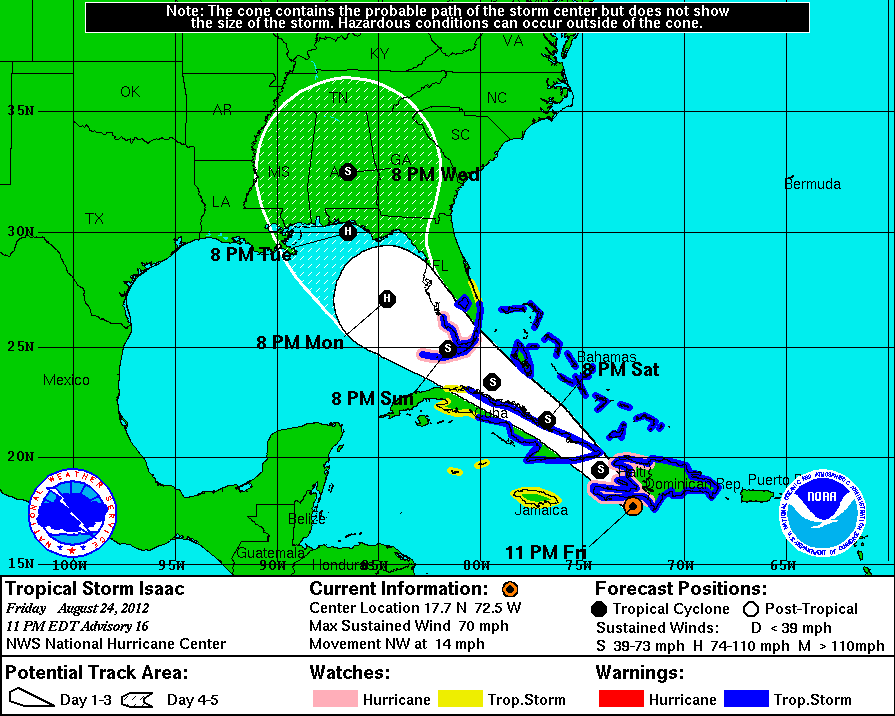 HAVANA TIMES — The winds of Tropical Storm Isaac have increased to 70 mph as it readies for a landfall in Haiti in the coming hours, before continuing on to eastern Cuba.
At 11:00 p.m (EDT) the center was located by the National Hurricane Center (NHC) at 65 miles south-southwest of Port Au Prince, Haiti and 245 miles southeast of Guantanamo, Cuba.
The NHC notes that rainfall could reach between 8 and 20 inches on Hispañola Island (Haiti and the Dominican Republic) posing a danger from flooding and landslides. Four to 12 inches of rain is also expected in parts of Jamaica.
A tropical storm warning is in effect for all of the eastern and central provinces of Cuba including Villa Clara, Sancti Spiritus, Ciego de Avila, Camaguey, Las Tunas, Granma Holguin, Santiago de Cuba and Guantanamo.
A tropical storm warning is also in effect for vast stretches of Florida on both the east and west coast.
Isaac is expected to pick up steam after leaving Cuba and into the Gulf of Mexico, although it is too early to tell to what degree an inland path would debilitate the weather system.
The NHC noted that "Isaac is moving toward the northwest near 14 mph (22kp/h) but is expected to resume a faster forward speed toward the northwest tonight through Sunda. On the forecast track, the center of Isaac should make landfall in Haiti tonight, move near or over southeastern Cuba on Saturday and move near or over central Cuba on Saturday night, beginning its approach of the Florida Keys on Sunday."
"Tropical storm force winds extend outward up to 230 miles (370 km) mainly northwest and northeast of the center," added the NHC.