Japan Says it Can Talk Future with Cuba
By Pilar Montes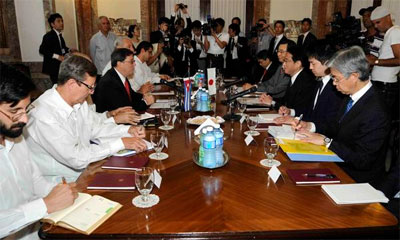 HAVANA TIMES – The President of the Cuba-Japan Economic Conference, Tomoyoshi Kondo said in Havana that once the issue of the Cuban debt is solved, the two countries will be able to "discuss and talk about the future."
The Cuba-Japan Business Forum met Saturday at the National Hotel, with some thirty Japanese business people and a dozen Cuban state firms represented.
Among the Japanese were executives from companies like Toyota, Sony Solutions, Sumitomo Corporation, Marubeni Corporation and Komatsu.
The representative of Marubeni Corporation, one of the Japanese commercial entities that recently entered the Latin American market in a solar park project in Chile, expressed interest in the Cuban portfolio for investments in renewable energy.
The Business Forum accompanied the official trip to Cuba by Japanese Foreign Minister Fumio Kishida, visiting the Caribbean island since last Thursday. The first ever tour of a Japanese FM to Cuba ends on Sunday May 3.
Kishida met on Saturday with his Cuban counterpart, Bruno Rodriguez Parrilla at the headquarters of the Foreign Ministry.
The Japanese foreign minister said that his country would start with Cuba a new scheme of "major" cooperation through "major" non-refundable aid. The amount of the assistance was not specified.
Japan hopes to support the Cuban process of "economic updating" (reforms), stated the foreign minister who expressed the desire that with his visit, the friendly relations rise to a new, higher level.
Earlier on Saturday, the Japanese business delegation visited the Mariel Special Development Zone, 45 kilometers (25 miles) west of the capital, where some of the projects of interest to the Japanese are located.
In the previous session of the Conference, Minister Rodrigo Malmierca, Foreign Trade and Foreign Investment and Kondo signed memorandums on two very important points: the re-launching of economic relations and the decision to hold bilateral conferences every two years. The next meeting will be in the fall of 2016.
Sources at the meeting reported that the business delegation will be received by one of Cuba's vice presidents, Ricardo Cabrisas.