Jimmy Carter Returning to Cuba
By Circles Robinson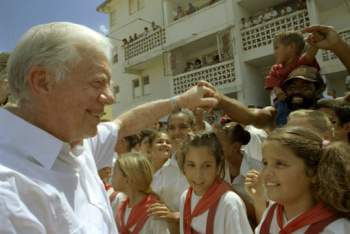 HAVANA TIMES, March 25 — US President Jimmy Carter (1977-1981) will make his second trip to Cuba starting Monday, March 28th, invited by the Cuban government.
Carter, and his wife Rosalynn, plan to be in Cuba for three days and are scheduled to meet with President Raul Castro and other Cuban officials.
During his first visit in 2002, Carter spent much of his visit touring Havana with then President Fidel Castro. He also addressed the Cuban population from the University of Havana.
Carter is the only US president either in or out of office to visit Cuba, where  he exchanged ideas and perspectives with Fidel Castro.
The Carters will be visiting Cuba under the auspices of the not-for-profit Carter Center founded in 1982 and based in Atlanta, Georgia.
A press release from the Center states that Carter seeks "to learn about new economic policies and the upcoming Party Congress, and to discuss ways to improve U.S.-Cuba relations."
No mention was made whether Carter will discuss the case of US citizen Alan Gross, sentenced recently to 15 years in prison by a Havana court for "Actions Against the Independence and Territorial Integrity of the State."
Gross was caught distributing illegal telecommunications equipment which the US State Dept. claimed was just humanitarian aid. Secretary of State Hillary Clinton has made the Gross case her top issue in US-Cuba relations, which have not improved substantially as some expected under President Obama.