Jose Abreu's Big-League Debut in Chicago Proves Ringing Offensive Success
by Peter C. Bjarkman* (in Chicago)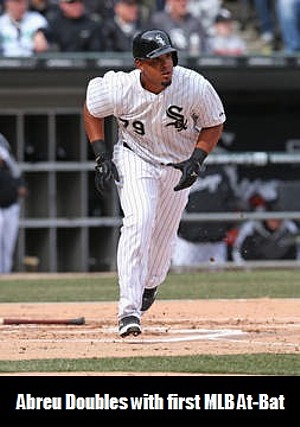 HAVANA TIMES — There was no game-ending rifle-shot double-play throw from right field, and there was little over-the-top LA-style media hype to ramp up the headliner Opening Day Chicago scene. But in the end the long-awaited White Sox debut of José Dariel Abreu was every bit as eye-popping as last summer's delayed first bow by flashy Yasiel Puig at Dodger Stadium.
Two important base knocks, the season's first run scored, and a first career RBI were all enough to confirm this writer's earlier predictions that Abreu would launch big numbers and quickly prove the heaviest-slugging Cuban import yet to arrive in the Big Show during the modern baseball era.
With his $8.6 million contract (compared to Puig's $3.7 million 2014 paycheck) Abreu already has one leg up on his former Cuban League teammate (both starred for the Cienfuegos Elefantes) and it is likely only a mere matter of time until the power-packed first sacker also is posting loftier numbers in the box score categories where it really matters.
Debuting as Cuba's big leaguer number 179 (a small numerical irony in itself, given Abreu's unorthodox uniform #79) the giant infielder smacked the very first delivery he saw from Minnesota righty Ricky Nolasco (a teammate of Puig's last summer) over the head of right fielder Oswaldo Arcia for a ringing double that launched the home club's go-ahead rally in the bottom of the second.
Moments later he would trot home with the season's first tally thanks to a two-run shot into the bullpen by normally light-sticking Alejandro De Aza. In his second trip to the plate one inning later Abreu drilled another Nolasco sinker (the same pitch that had fooled him on the previous delivery) into left field to plate Adam Eaton and pick up his first career RBI.
Two final Abreu trips to the plate during the 5-3 White Sox victory produced a pair of line-drives "loud" outs, both squarely hit and the second smacked into the teeth of a 30 mph wind in the eighth, sending center fielder Aaron Hicks to the edge of the warning track.
The end result for the day was four quality at-bats, a run scored, another knocked home, and a club-best perfect one-for-one ledger with base runners in scoring position. For good measure, an historical oddity was also to be found in the fact that Abreu completed his first half-inning on a big league diamond by recording all three put outs (two second-to-first rollers sandwiched around a foul-territory pop fly off the bat of Minnesota catcher Kurt Suzuki).
Yasiel Puig as well smacked two safeties during his own Los Angeles debut last June – and also unleashed a spectacular game-closing throw from deep right field for good measure, but the Puig lid-lifter was not staged in a colorful Opening Day setting, nor did it provide the same level of offensive fireworks.
Admittedly Puig continued his onslaught throughout the following month, knocking out a near-record 44 safeties before June came to a close. Only Hall-of-Fame legend Joe DiMaggio amassed a loftier total (48 in May 1936) during a first 30-day span in the majors. It is highly unlikely that Abreu or anyone else in the near future will equal Puig's torrid early onslaught streak, but what happens over the longer course of a full season or even a full career is another matter entirely.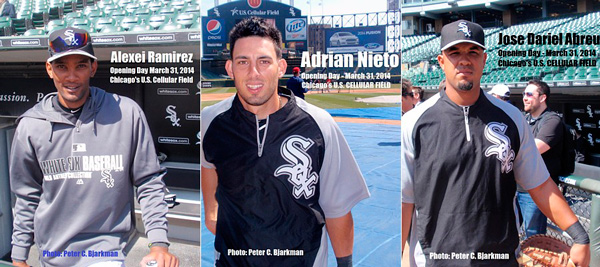 Puig's rookie totals of 19 homers, 42 RBIs, and a .319 BA all seem rather easy targets for the heavy bat now swung by Abreu. The first-year numbers posted by Yoenis Céspedes (23, 82, .292) in Oakland back in 2012 are also likely reasonable targets for the most muscular among Cuban big-league "defectors" yet to arrive on the North American scene.
Abreu's two-hit debut was not the only fireworks provided on the day by the noteworthy Chisox Cuban arsenal. Batting out of the eighth slot in the order, shortstop Alexei Ramirez ("The Cuban Missile") wacked out singles in the second and sixth frames, the second base knock ending in an unfortunate put out when Alexei unwisely attempted to stretch the safety into a double and was gunned down by a perfect toss from right fielder Arcia to shortstop Pedro Florimon. Ramirez would finish two-for-three to record the team's most efficiency offensive ledger on the day.
Yesterday's Chicago opener played before an announced sellout crowd of 37,422 also quietly featured a rare bit of Cuban-related baseball trivia. For the first time since 1969 an MLB Opening Day roster featured four Cubans, in this case Cuban League "defectors" Abreu, Ramirez and Dayan Viciedo, plus Havana-born and Hialeah-raised reserve catcher Adrian Nieto (who left the island with his parents when a mere four years old).
The last big league club to claim four Cubans on Opening Day was the Cleveland Indians who debuted at Tiger Stadium in Detroit (April 8, 1969) with Luis Tiant on the mound, José Azcue behind the plate, and Zoilo Versalles and José Cardenal in the infield. This afternoon only two of the four Chisox imports saw game-time action, but Nieto now stands poised to become Cuban big leaguer number 180 in the coming days while Viciedo still figures strong in this year's Chicago outfield plans.
To make the day complete there was also a final piece of history unfolded that also involved the growing Cuban big-league connection. When the day's hitting star Alejandro De Aza wrapped out a second homer in the sixth off Nolasco he became the first White Sox player in more than a half-century to homer twice in an Opening Day game staged on home turf.
The last to turn the trick had been the original "Cuban Comet" Orestes "Minnie" Miñoso, who struck two long balls against Kansas City hurlers at Comiskey Park on April 19, 1960 (in an era featuring much later dates for season's openers). The first Miñoso blow came off Johnny Kucks in the fourth and the second – a walk-off ninth-inning game-winner – was struck against Athletics journeyman closer John Tsitouris.
While Dominican-born De Aza's two historic long balls stole the headlines from Abreu and Ramirez, they nonetheless also provided a fitting final touch for an American League debut game richly packed with Cuban baseball storylines.
(*) PETER C. BJARKMAN is a widely recognized authority on Cuban baseball past and present, an avid collector of Cuban game-worn uniforms, and a frequent visitor to the island nation. His work as a "Cuban baseball insider" has been featured on Anthony Bourdain's Travel Channel episode of "No Reservations Cuba" (2011) and also with a 2010 front page profile story in the Wall Street Journal. He is the Senior Baseball Writer for www.BaseballdeCuba.com, the leading Cuban League website.