Low-Budget Film Festival Opens in Gibara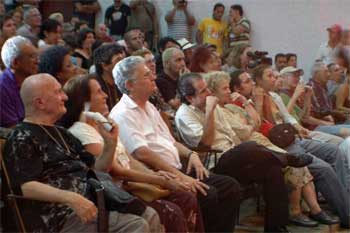 HAVANA TIMES, April 17 — The Low-Budget Cinema Festival (Spanish: El Festival de Cine Pobre), held annually in the eastern Cuban town of Gibara (Holguin), is beginning its tenth edition today, which will run through April 22 with over 110 works in the competition.
The event will open with the winner of the 2010 Camera d'Or at Cannes: Leap Year, which is the debuting work by Australian-Mexican director Michael Rowe.
This year's festival, which will be dedicated to children and adolescents, will have among its special guests the Spanish singer Luis Eduardo Aute and the Cuban poet Carlos Pintado, who lives in Miami.
As an additional attraction at this year's festival, the filming of a feature film will be taking place with over 15 stories related to this event.
The Low-Budget Film Festival was founded in 2003 by the late Cuban filmmaker Humberto Solas, and from his original conception calls for low-budget films of high artistic value.