Maduro Dares US to Punish Venezuela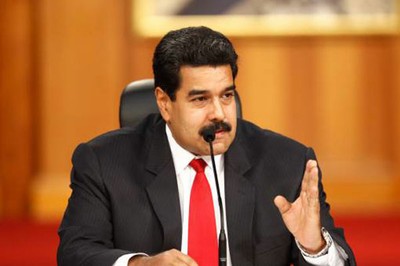 HAVANA TIMES – Venezuelan President Nicolas Maduro has dismissed statements by US officials warning about the possibility of sanctions against his country and even dared the superpower to carry out its threats, DPA reported.
"There's a very malicious plan at work here. The United States should not meddle in this, it should not intervene in the internal affairs of Venezuela or threaten us with sanctions. They're saying 'either you hold talks, or we sanction you'. Well, go ahead, sanction us! One is tempted to say that, but that's when people start telling you to keep your tone down," Maduro railed.
Maduro said that statements by US officials suggesting the possibility of imposing sanctions on Venezuelan government representatives are ridiculous. "One is tempted to say to them: 'you're ridiculous!' They're talking about imposing sanctions on us, individually," he declared angrily.
These words were spoken during the televised "Talks for Peace" Maduro held Thursday night with the opposition coalition Mesa de la Unidad Democratica ("Democratic Unity Platform, or MUD), which seeks to put an end to protests by the opposition that have already caused 39 deaths and left hundreds of people injured.
US Senate and House of Representatives members have called on the Obama administration to impose sanctions on high officials of the Venezuelan government in response to the repressive actions taken against protests, a possibility the Democratic leadership hasn't discarded but which appears remote at the moment.
Maduro accused the US government, and Secretary of State John Kerry in particular, of contacting Latin American governments to announce the possible collapse of the Venezuelan economy and undermine regional support for his government.
"The US government has openly and publicly declared this and told Latin American governments that Venezuela is heading towards a crash and economic collapse. I've been thinking a gerat deal about this," he stated.
The Venezuelan president then warned that the United States could try to make Venezuela's economy "squeal", as it did with Chilean socialist president Salvador Allende, who was overthrown by a coup d'état backed by Washington in 1973.
Maduro however expressed his confidence in the solidity of Venezuela's socialist economic model, established by the late Hugo Chavez, and dismissed all talk of a possible collapse of the oil-producing country.
The gathering at the Presidential Palace lasted until 2:00 in the morning and saw the participation of opposition leader Henrique Capriles, who was the last to take the floor before Maduro's closing remarks.
A delegation of representatives of the Union of South American Nations (UNASUR) was present at the meeting. Papal nuncio Aldo Giordano was also present and read a letter from the pope, urging the parties to come to a peaceful settlement of the conflict.
Venezuela is Cuba's closest political ally and the exchange of oil for professional services (doctors, educators, etc) between the two countries is vital for the island's economy.