Major League Star "Pito" Abreu Sponsors Cuban Junior Team's Trip to the US
By Eric Reynoso  (Café Fuerte)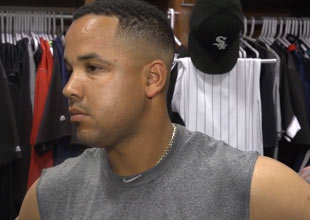 HAVANA TIMES — Cuban baseball star Jose Dariel Abreu, 2014 American League Rookie of the Year, is setting new cooperation standards in his native country, availing himself of the spirit of Washington's new policy towards the government of Raul Castro.
Abreu became the main organizer and first promoter of an initiative to have a Cuban junior baseball team participate at the ESPN's Disney International Tournament, to be held in Orlando, Florida, from July 5 to 11.
"I thank God for allowing me to do these things and all of the people who have allowed those kids in Cuba to come here. Jose Dariel Abreu will always be there to help with these small opportunities life offers us and are so dearly needed by these kids in Cuba," said the Chicago White Sox first baseman.
Abreu told MLB.com that the young Cuban players already have visas to travel to the United States, following a complicated legal process.
The competition is organized every year at the ESPN Wide World of Sports Complex in Orlando and is open to players aged 6 to 18. The tournament takes place over two weeks, from June 28 to July 11, organized on the basis of different categories. It also celebrates the 4th of July.
Other July Events
No details about the participation of Cuba's team were offered. The Cuban Baseball Federation (FCB) has not offered any information either.
The visit of the junior team will coincide with that of the Cuban national selection, which agreed to a friendly match against a US college team in North Carolina, from July 1 to 6. The Cuban squad will then play at Toronto's Pan-American Games.
The 28-year-old Abreu is one of Cuba's Major League success stories. A member of the national selection, he left Cuba in August of 2013 and signed a US $68 million contract with the White Sox.
His performance in the 2014 season was truly grandiose. Abreu ended up with a .317 batting average, 36 homeruns, 176 hits, 107 runs batted in and a .561 slugging average – figures that placed among the batting elite in his first year in the Major League. The 36 homeruns set a new rookie record, previously set (at 35) by Ron Kittle in 1983.
In the 2015 season he is batting .283 and has already hit his 11th homerun and has 37 RBIs.
The involvement of a Cuban-born Major League player in the sponsoring of a Cuban team's trip to the United States is unprecedented and could open many doors, at a time when baseball authorities in the two countries are interested in negotiating, within the context of the White Houses' new policy announced by Barack Obama on December 17.