Maria is Now a Category 5 Hurricane
By Circles Robinson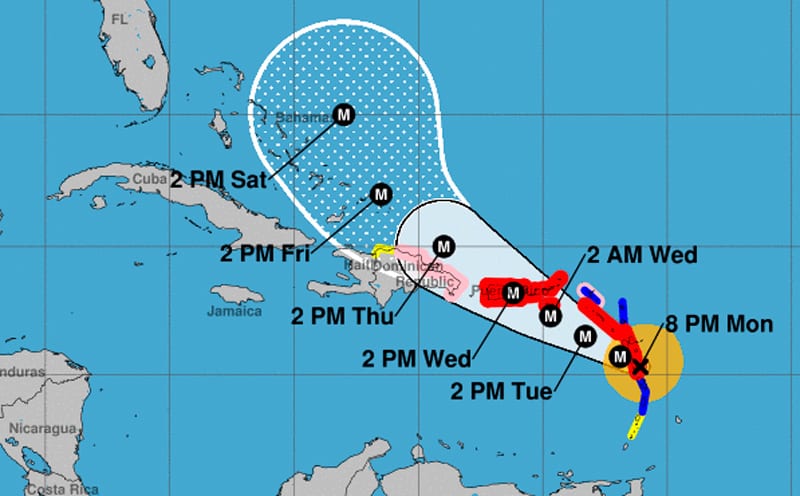 HAVANA TIMES – Hurricane Maria is now a maximum Cateogry 5 storm with sustained winds of 160 mph (260 kph), after having intensified greatly in the course of the day.  At 8:00 PM Cuba time (EDT) the eye of the potentially catastrophic storm is approaching the island of Dominica, reports the National Hurricane Center (NHC).
Besides Dominica, population 72,000, in line for an immediate direct hit, the hurricane is a serious threat to several other island nations including: Guadeloupe, St. Kitts, Nevis and Monserrat, US and British Virgin Islands, Puerto Rico, Culebra and Vieques.
Other islands in danger of hurricane or tropical storm conditions are Antigua and Barbuda, Saba and St. Eustatius, St. Maarten, Anguilla, St. Lucia, Martinique, St. Martin and St. Barthelemy, and large portions of the Dominican Republic.
According to the latest projection cones, there is much agreement on the storm taking a path northwest with a landing most likely Wednesday square on Puerto Rico as a major hurricane.
From there the experts see Maria moving close to the north coast of the Dominican Republic, the exact same course as that followed by hurricane Imra.
However, at this time the projections see Maria then moving north-northwest from the Dominican Republic and do not see it threatening Cuba directly as did Irma.
Nonetheless weather experts caution that it is too early for a solid prediction of where the eye of the storm will move after hitting land in Puerto Rico.
Likewise, the northeastern coast of Cuba in the provinces of Holguin and Guantanamo could be subject to tropical storm winds and sea surges, although it is too early to tell with any certainty.