McGovern Off to Cuba to See Fidel
By Circles Robinson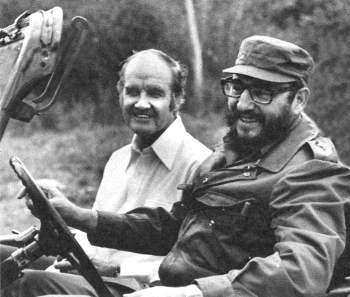 HAVANA TIMES, June 30 — While mum's the word in the Cuban media, AP reported Thursday that former US senator and presidential candidate George McGovern is to travel to Cuba on Friday to meet with Fidel Castro.
No mention was made whether McGovern would also see the current Cuban leader, Raul Castro, or Venezuelan President Hugo Chavez, who is recovering from surgery undergone three weeks ago in Havana.
McGovern, 88, told AP that he considers 85-year-old Fidel Castro, a longtime friend.
The former senator has been a steady opponent of US policy in Cuba including the travel ban on ordinary US citizens visiting the island and the half century economic blockade imposed by Washington.
He has traveled to Cuba on seven occasions, the last being in 1994, when Cuba was still in the midst of a depression brought on by the collapse of its main trading partners in Eastern Europe a few years earlier.
The Democratic Party politician served as a senator from South Dakota from 1963-1981.  Running on a platform to end the Vietnam War, McGovern lost the presidential bid in 1972 to Richard Nixon, who later was discovered having carried out illegal activities to sabotage the senator's campaign.
Such "dirty tricks" and subsequent cover-up forced Nixon to resign on August, 9, 1974, in the aftermath of the Watergate affair.