Medieval Music Returns to Havana
By Gina Picart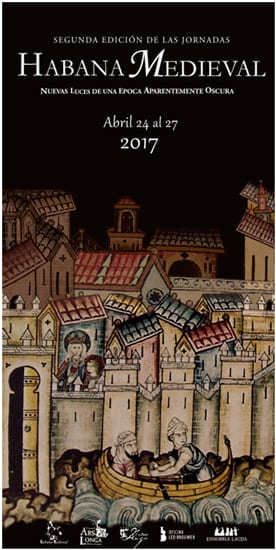 HAVANA TIMES — Medieval music will once again fill some of Havana's streets from April 24th to 27th, under the auspices of the Leo Brower Office and is being organized by Ensemble Lauda and its director Henry Vidal.
Havana's Medieval Festival is a very interesting event where conferences, historically informed music concerts, exhibitions of musical instruments from that time, specialist magazine presentations and other novelties take place. The festival's conferences will be given by well-renowned researchers such as musicologist Luis Manuel Molina, writers Raul Aguiar and Jose Miguel Sanchez, YOSS, and other prominent figures in the capital's intellectual circuit, who will analyze, among other subjects, the traces of medieval influence in our national culture.
Concerts will be played by the Ensemble Vocal Luna, Camerata Vocale Sine Nomine and Lauda, the event's host ensemble, whose members will also perform a repertoire of Spanish medieval dances and songs, which range from sirventes (service songs) to cantigas about long lost love, which will take place in Gelmirez Palace's party hall.
Medieval Havana is an initiative which owes a lot to maestro Leo Brower, not only for the aesthetic pleasure this beautiful music gives the public, but because it could be a special decisive step in recovering our historic, cultural and social roots from the European part which corresponds to our national identity, as well as encouraging the development of our high culture via artistic performances which call for good taste and aesthetic refinement.
Program
April 24th 2:00pm, Casa Victor Hugo:«The legacy of Sefardi music in the Iberian Peninsula»  Lecture by professor Luis Manuel Molina, guitarist, composer and director of the radio show Música Antigua.
April 24th 4:00pm, Casa Victor Hugo: «The Middles Age in film: the best movies» Conference by Raul Aguiar, professor of narrative technique at the Instituto Onelio Jorge Cardoso.
April 24th 7:00pm, Santo Angel Custodio Church: Inauguration of the second edition of Medieval Havana with the concert «Rosa fragante» The presence of the feminine in the cult of Mary in the Middle Ages.
–Ensemble Vocal Luna- Director: Wilmia Verrier. Assistant: Maribel Nodarse.
April 25th 2:00pm, Casa Victor Hugo:«The dimensions of Camino de Santiago» by Arantxa Fernández Crespo, president of the Galician "Xosé Neira Vilas"  Professorship at Havana University.
April 25th 4:00pm, Casa Victor Hugo: «A trip to Pazo de Xelmirez»
–Ensemble Lauda, host of the event- under Henry Vidal's direction and performances by Lic. Arantxa Fernandez Crespo. Didactic performance with sanctuary cantigas and romerias. Based on documentary information from the Portico de la Gloria and Gelmirez Palace.
April 26th 2:00pm, Casa Victor Hugo: «The blade and the soul: the evolution of the sword in Medieval times» Conference by Jose Miguel Sanchez (Yoss) Science Fiction and Fantasy writer.
April 26th 4:00pm, Casa Victor Hugo: «The influence of Medieval literature on Cuban heroic fantasy» Conference by Nelson Pérez, coordinator of the literary group –Ariete-.
April 27th 2:00pm, Casa Victor Hugo: «Galician Mythology: pagan traditions in the eyes of Medieval Christianity» Lecture by Enrique Rosales, organizer of the Ciervo Blanco project.
April 27th 3:00pm, Casa Victor Hugo: Lecture about books written by Cuban authors about heroic fantasy given by Nelson Perez Espinosa.
April 27th 7:00pm, Sagrado Corazón de Línea Church: Closing ceremony of the second edition of Havana's Medieval Days with the concert «Nostre Dona de Montserrat» Catalan songs and dances from the 14th century which were meant for pilgrims during the vigils in Montserrat.
-Camerata Vocale Sine Nomine, Cuba- director: Leonor Suarez
–Ensemble Lauda, Cuba- director: Henry Vidal.
EXTRA ACTIVITIES
April 24th, Casa Victor Hugo: «Extinct Sounds» Exhibition of musical instruments from the Middle Ages in Galicia which is curated by Henry Vidal.
April 24th, Casa Victor Hugo: Presentation of the performance «Vestigios» by Jordanis Guzmán Rodríguez, with readings based on the Song of the Sybil; author performance and Abel Ernesto Valdez Arronte.
April 27th 4:00pm, Casa Victor Hugo: Presentation of the new edition dedicated to Galicia on the online magazine «Metatrón H13 » carried out by cultural group –Arcangel– organized by Humnver Garcia Marin.