Mikro Tik User Meeting in Havana, Cuba – January 15, 2016
Press Release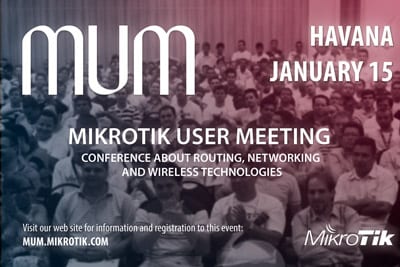 HAVANA TIMES — MikroTik User Meeting (MUM) is an event for everyone who is interested in the latest networking technologies. This is an opportunity to learn strategies for deploying new and innovative MikroTik RouterOS and RouterBOARD hardware applications. Not only existing users of RouterOS and RouterBOARD should attend this event, everyone with interest in the latest networking technologies is welcome – ISP technicians, technical university students, network enthusiasts, anyone who is interested in WiFi or networking.
The conference will mainly consist of educative case studies and workshops about using wireless, making Hotspots, providing Internet and more, to be conducted by long-time RouterOS users from Cuba and abroad.
While the conference is focused on how to achieve this with MikroTik low cost devices, most of the technology is generic, so it will be interesting for anyone.
Attendance is free of charge. Official MUM Cuba 2016 language will be Spanish, and it will take place in Melia Habana hotel (Ave. 3Era. E/76 Y 80 Miramar Havana) on January 15, 2016.
More information: http://mum.mikrotik.com/2016/CU/info/
Agenda: http://mum.mikrotik.com/2016/CU/agenda
Registration: http://mum.mikrotik.com/register.php?section=104
(all attendees must register and print tickets before their arrival)
About MikroTik
SIA Mikrotikls is a Latvian company that produces networking equipment and software for data network management purposes, internationally known with MikroTik RouterOS and RouterBOARD brands. RouterOS software and RouterBOARD equipment is widely used to ensure numerous network management tasks in SOHO as well as complex ISP and enterprise computer networks. MikroTik products have gained worldwide reputation mainly due to their affordability and versatility.
Network engineers with good knowledge in MikroTik RouterOS are demanded by Internet service providers, telcos and system integrators all around the world. Knowledge is obtained at a number of training centers and Academic educational institutions giving MikroTik classes – http://www.mikrotik.com/training/centers http://www.mikrotikacademy.com
At the end of their studies students attempt to obtain internationally recognized MikroTik certificates confirming their proficiency.
Here you can see some photos from previous MUM events:
http://mum.mikrotik.com/gallery/main.php, and here are videos of the presentations: https://www.youtube.com/mikrotik/playlists
MikroTik team is looking forward to meeting you at the MUM! For any questions regarding the conference or MikroTik feel free to contact [email protected].