Miracles in Jacmel, Haiti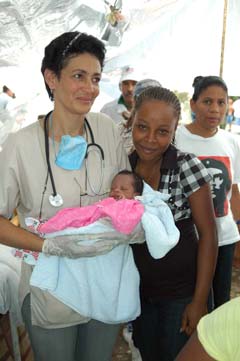 HAVANA TIMES, Jan. 22 — Cuba's Granma newspaper has special correspondents in Haiti covering the work of the over 400 Cuban doctors and medical staff providing emergency service in several locations.  On Friday a report tells the incredible story of a baby girl, less than a month old, rescued alive after a week under the rubble.
The following is a Havana Times translation of a portion of the Granma article by Leticia Martinez Hernandez with photos by Juvenal Balan:
PORT-AU-PRINCE, Jan. 22– Elizabeth was trapped for a week under the rubble.  Born only 15 days earlier, the infant was caught beneath the walls of her house when the Haitian ground convulsed.  Her mother, Micheline Joassaint, had already given her up for dead when a team of Colombian rescue workers unearthed the child alive.
At the moment on Jan. 12 when all of Port au Prince and its surrounding areas began to tremble, the baby had just nursed and was getting some sleep. From that instant until this past Tuesday (January 19), she wasn't seen again.  What's more, the absence of crying indicated the newborn had died.
Today Cuban pediatrician Zilda del Toro —still surprised and excited— describes how Elizabeth arrived at the Jacmel hospital dehydrated and suffering from both hypothermia and hypoglycemia, though rescuers had injected her tiny veins to administer glucose and covered her frail body with plenty of clothing to warm her.
"We immediately began treatment and the child recovered.  Still no one can explain how Elizabeth managed to survive, because she was there the whole time alone, without water, without heat, and the clothes she was wearing were very light," said Del Toro.
"However what's the most surprising is that she didn't receive any injuries. After we administered her liquids, she began to urinate, her hydration level improved, her temperature came back to normal and she began to nurse.  All this happened in less than an hour," the doctor added.
Today Elizabeth is the "Miracle of Jacmel," in that city located 45 miles from the Haitian capital. Cuban doctors arrived there a few years ago and now continue to save lives in the wake of this devastating earthquake.
But Elizabeth is not the only wonder of this town. Yesterday a new field hospital was put into operation, where Cuban doctors will provide their life-saving services through their sweat, hard work, long hours and many risks.
To read the full Granma article in Spanish click here.