Mountains of Garbage on Havana's Beaches Every Day
By Daniel Benitez  (Cafe Fuerte)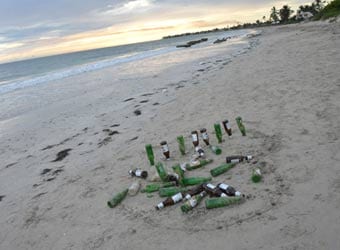 HAVANA TIMES — Havana's Playas del Este is the closest and most affordable sea destination for the Cuban capital's over two million inhabitants, but they are being affected by the actions of those who leave huge amounts of garbage and waste on the sand every day.
According to the people responsible for cleaning Cuba's northern coastal area, visitors who come here don't have any trouble in leaving a reminder of their stay behind, cans and empty bottles, food scraps, containers and any items used.
The alarming revelations about Havana's beaches now being converted in huge dumping grounds due to the indolence of beach-goers have recently appeared in an article by the newspaper Juventud Rebelde.
According to Eugenio Rodriguez, who has been on the clean-up crew in the area for fifteen years now, when he starts work at 6 AM, "it's disgusting, especially in the areas where more Cubans go, because it's always clean where foreign tourists crowd together. They are incapable of leaving garbage behind on the sand," the newspaper says.
There are a total of about 30 people, split into two groups, who are responsible for keeping over 7 km of coast clean. Many of them agree on the fact that it is the Cubans who are less concerned about keeping their surroundings garbage free.
Sundays are the worst
It is estimated that up to half a million people come to visit these beaches on a given Sunday in June, July and August.
Surroundings plants also suffer. Every human stampede leaves trunks and branches pulled off the surrounding seagrape trees, which are used as protection against the sun in an area where there aren't any beach umbrellas or other kinds of protection.
Carlos Rudy, the person in charge of the cleanup effort for the State company Arentur, recognized the fact that beach-goers use garbage bins as a support to improvise an awning and even as goalposts to play soccer.
The official also recognized the fact that the police are busy fighting other crimes while inspectors are supposedly meant to keep a look out to make sure the law is being followed, but they don't pay attention to offenders either.
"In the '90s, there were inspectors to give out warnings and to fine people for throwing or leaving garbage behind on the sand and abusing property… It's not like that anymore, but it needs to be," claimed Rudy.