New Attempt at Negotiation between the Venezuelan Gov and Opposition
President Medina praises the Venezuelan's willingness to negotiate.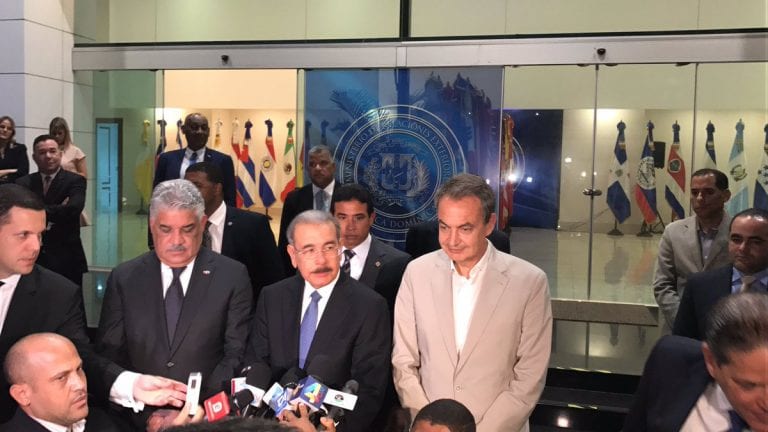 HAVANA TIMES — The president of the Dominican Republic, Danilo Medina, met on Wednesday with the delegations from the Venezuelan Government and opposition in order to set the stage for a negotiation agreement which will allow the South American country to overcome its crisis, dpa reported.
After several hours talking at the Foreign Ministry, Medina said that both parties expressed their points of view about the situation in Venezuela.
"We are in the process of approving an agenda which will lead to a definitive negotiation agreement which will end the crisis," the leader said as he left the meeting. "There is a lot of willingness to reach some type of negotiation agreement," he added.
Medina explained that the delegations will come back and meet on Thursday and they will review the task at hand in order to "move forward".
The meeting is being facilitated by the Dominican Republic, its former president Leonel Fernandez and former Spanish Head of Government Jose Luis Rodriguez Zapatero.
A delegation from the Venezuelan government arrived in Santo Domingo, led by the mayor of Caracas, Jorge Rodriguez; his sister Delcy, head of the Constituent Assembly and former vice-minister Roy Chaderton.
The opposition group was headed by the National Assembly (Congress) leader, Julio Borges, the president of the Assembly's Foreign Policy Committee, Luis Florido and political leaders Manuel Rosales, Timoteo Zambrano and Vicente Diaz.
"We are bringing the flag of peace, dialogue, harmony and we hail the support that the UN Secretary General, Antonio Guterres, has given to this initiative," Jorge Rodriguez said when he arrived in Santo Domingo.
Even though Borges did claim that they are near towards reaching an agreement, he stressed that "there isn't a dialogue" until President Nicolas Maduro's government meets and fulfills the required conditions.
He mentioned a full election schedule, with presidential elections (in 2018) included, releasing political prisoners and lifting disqualifications of candidates among these demands. He also demanded the government's respect the power the Constitution bestows upon the National Assembly (Congress), controlled by an opposition majority, and its immediate attention to the country's economic and social crisis.
Efforts to establish a dialogue in late 2016, also in the Dominican Republic, failed due to the impossibility of reaching an agreement about the opposition's conditions.
Their differences deepened between April and July, due to opposition-led protests against the government which left more than 120 people dead. The protests came after the Supreme Court of Justice issued two rulings which stripped the National Assembly of its powers.
New measures followed which reached a climax with the election of a controversial Constituent Assembly on July 30th, which is completely dominated by pro-government political forces and which has replaced the National Assembly by decree.